The first thing that caught the eye, was this slightly distorted figure, alien-like, that almost immediately reminded me of the unsettling and visceral works created by Francis Bacon the British painter.
And not long after, the surname of the artist who created those works, 'Nemeth', had certainly piqued my interest. For anyone who doesn't share any enthusiasm in fashion, hell, even if you are an expert in the subject matter, chances are the name might still elude you. It wasn't your mainstream luxury brand that's known to every household, nor is it one of the Belgian or Japanese designer names that we used to consider 'niche'. It was probably around the time when I was first exposed to Dover Street Market in London, where the works of Christopher Nemeth were sitting on the third floor, if memory serves me right, along with the likes of highly sought-after Elena Dawson and others. It was one of those early retail experiences that I would never forget — discovering genuine designer garments that boasted meticulous craftsmanship and intricate details, all in the flesh.
Around the summer of 2021, I eventually managed to overcome my initial fear of rejection and reached out to Riyo the artist, who turned out to be the daughter of Nemeth, for a potential collaboration. Following a series of emails and Zoom meetings over the course of more than 12 months, we finally, finally caught up with each other in Tokyo all the pandemic restrictions were lifted in Japan. Near Shibuya, in a vibrant izakaya with rock music blasting, I met Riyo face-to-face in December 2022 for the first time. What struck me the most was how much she reminded me of the UK — London, to be precise, a place I called home for almost twenty years, before the outbreak, which had kept me away from the English capital for more than four years and counting, fair to say, it was quite some sense of nostalgia, even though I had only met this person for the first time in real life.
Slender and tall, somewhat ghostly and enigmatic on first sight, dressed in head-to-toe black, very likely all Nemeth too, albeit slightly shy and introverted, perhaps even a little bit timid but at the same time stoic, extremely poise. If by chance I were to encounter her in an East London pub, I wouldn't give a second thought to her being a native of Tokyo. In fact, I wouldn't be at all taken aback if it turns out we had unknowingly passed each other on the streets of Shoreditch in our respective pasts.

Now looking back, and thinking about it all, was it truly Dover Street Market where I first stumbled upon the namesake label of Riyo's father, I couldn't tell. As we age our memories fade, I'm no longer able to keep up with the tricks they play, be it age or memories. What captivated me about Riyo's work was exactly this, how she dives deep into the fabrics of our memories and creates this surreal sense of unfamiliarity by capturing the essential sights of our familiar surroundings and objects, exquisitely exploring this line blurring the reality and imagination. We together completed the following interview around early 2023, with our first session initially beginning in August 2022. In this interview below Riyo talked about her past, the work that she's doing right now as well as her artistic practise.
Axel Wang: Riyo, how did you end up with a Fine Arts degree from Central Saint. Martins? Given your background one would probably imagine you doing something slightly more related to the spectrum of fashion. Why did you choose to do art, was there any family influence?
Riyo Nemeth: At the time, I wasn't completely sure of what path to take, but I chose Fine Art because I believed that art is at the core of all creations, and learning the process of making art it can be applied to any kind of field. My father studied Fine Art and this was what he told me, he did become a fashion designer, even so he continued painting, which was something that he was truly passionate about.
I always loved art, as well as fashion and music. Like everybody else, I was fascinated by music videos and fashion magazines, and from there I became curious about the process of artistic visualisation and interpretation from other fields like music and fashion. From a young age, I was always taken to a space called SuperDeluxe in Roppongi, it was run by friends of my parents, and I used to watch live music and video performances there quite frequently. Now looking back, I think the experiences I had there were the reasons why I was unconsciously drawn to video art and why I still continue.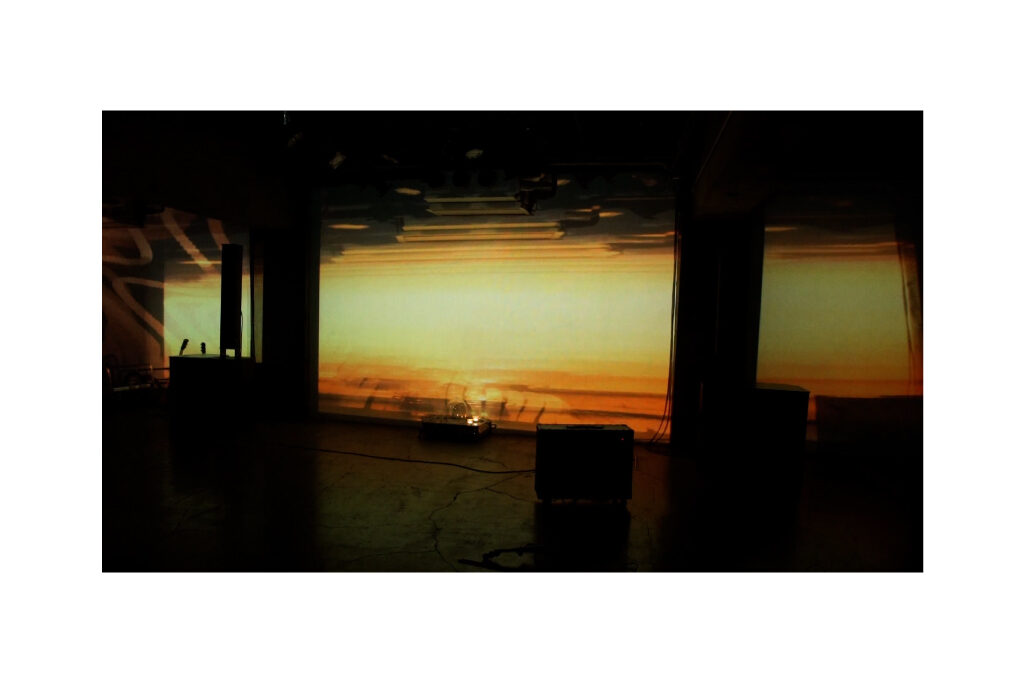 AW: Why did you decide to go to London for your university?
RN: I was born and raised in Tokyo, my father is British, except for the fact that we rarely went to England when I was young, hence I simply wanted to know more about the other side of my nationality.
AW: And the obvious question that follows, when and why did you decide to come back to Tokyo?
RN: I came back to Tokyo to help my family business when I was 25.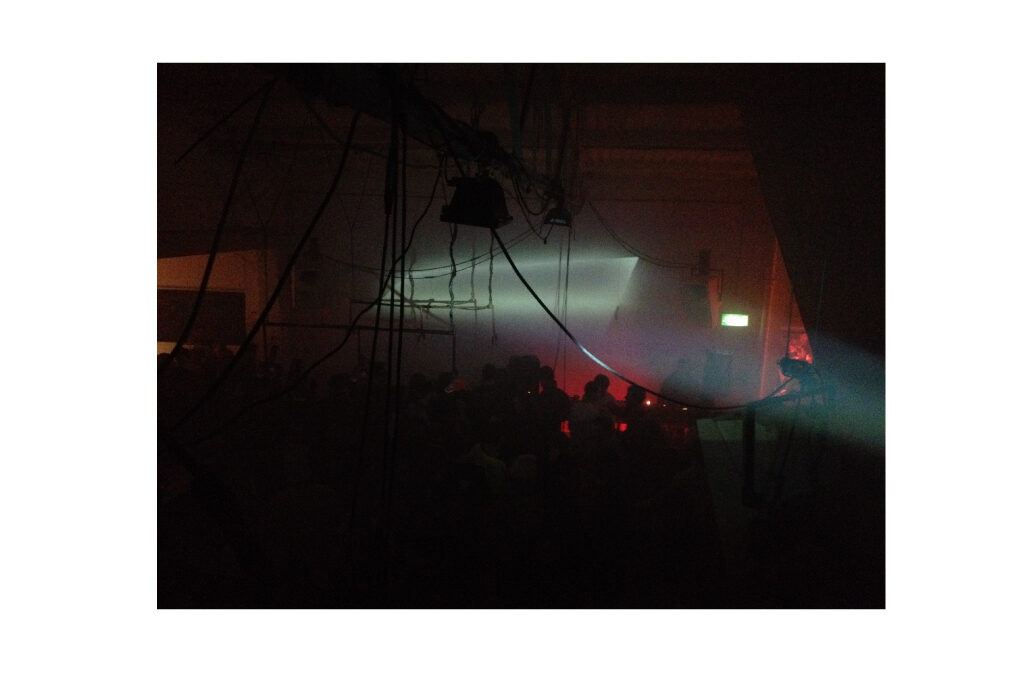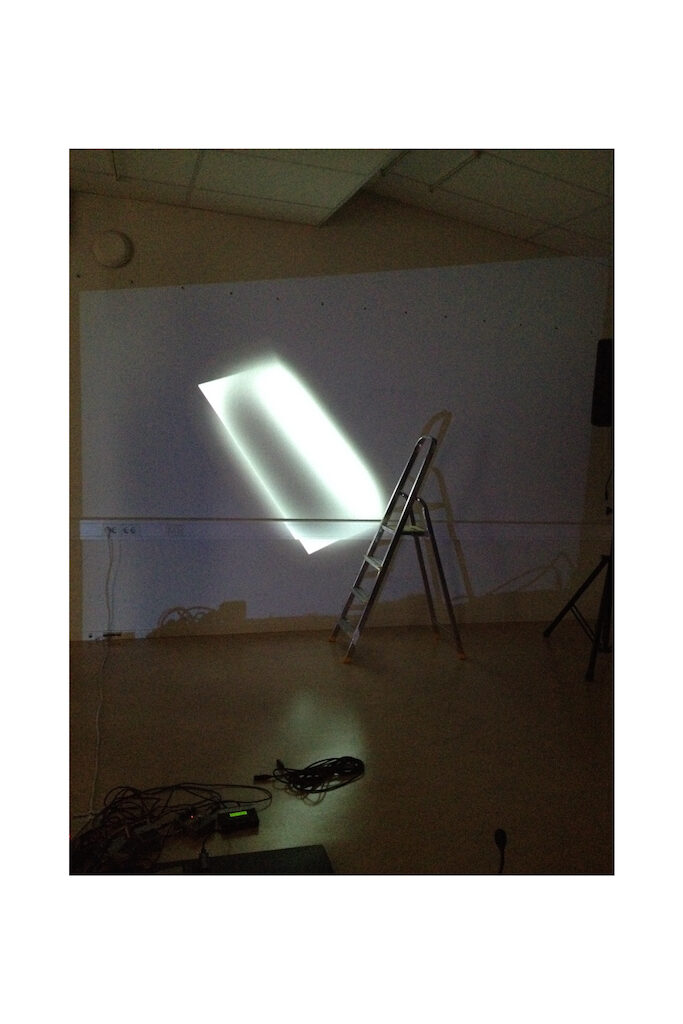 AW: How would you compare the two places, in terms of working and everyday living?
RN: It's hard to compare because I was a student then a graduate when I was in London. I have the fondest memories of being in my early 20s, which was the best time to be in London. The city was inspiring and still is for me, I found that the manner in which individuals share their viewpoints, articulate their concepts, and how they engage in the creative processes is more straightforward. While Tokyo is my hometown where I feel extremely at ease, the creative process here appears to be more indirect compared to London. Having experienced both cities, I believe I have been influenced by their respective approaches. Plus over here I have easier and cheaper access to all sorts of materials and equipment. I've been able to make works here that would've been extremely hard to execute in London. So personally London is a good place to absorb ideas and Tokyo is a good place to materialise some of these ideas.
AW: Japan is generally considered a homogeneous society. there are many "hafu1" stories out there that recount discomfort stemming from differences in skin colour, facial features, or even accent. What was it like for you growing up in Japan? Did you ever struggle with your identity?
RN: As a child I attended Japanese schools and I could only speak Japanese, my parents made a conscious decision to raise me with a singular racial identity. I felt like just another kid – I never really thought about my slightly different appearance. I'm lucky that I don't have any bad memory of being directly discriminated against, though I didn't have much knowledge about racial discrimination at the time. When you don't know you don't see it right? There were probably a bunch of small things, I just wasn't aware of them or have since erased them from my memory.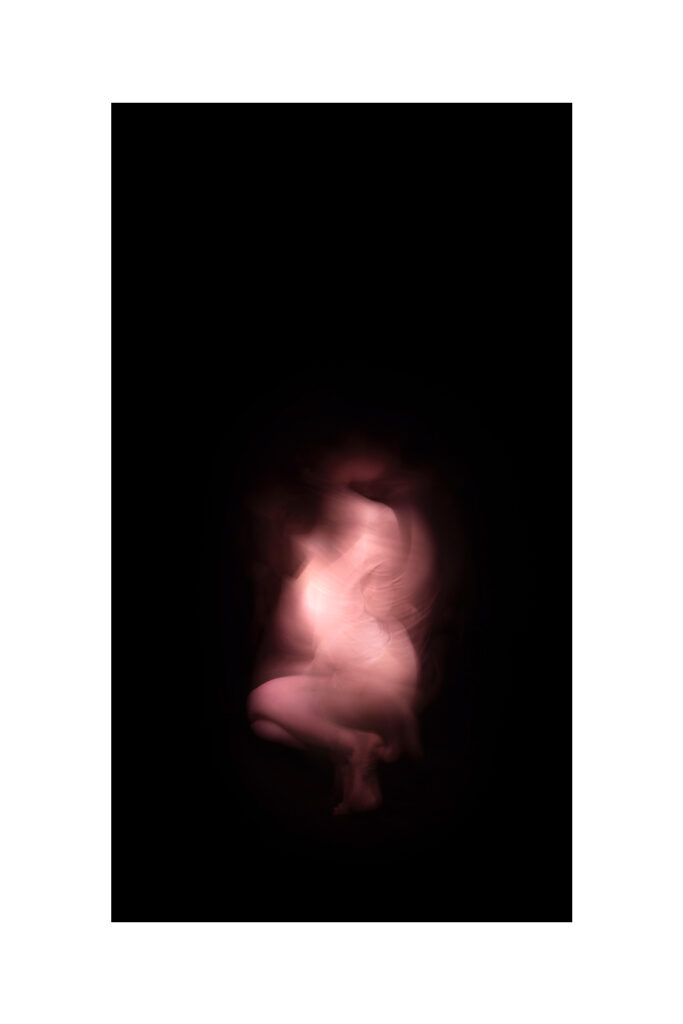 AW: At first glance, your work would perhaps strike as haunting, the images are obviously very dark, and there's an air of enigmatic mystery to it, it reminds me of Deborah Turbeville and Francesca Woodman, also Francis Bacon and Georg Baselitz to a certain degree. Let's talk about your inspirations, which I understand can be a bit nonsensical and yet it has to be brought up every time whenever speaking with an artist, I guess that's just an easier way for people to draw correlations between what they knew and what they don't. Is there an artist or any figure that you resonate with, or inspired you the most?
RN: Many of my video works feature a black background, which I view as being equivalent to a white canvas, but on a screen. I'd like to think that my process of creating video works is somewhat similar to painting texture by adding layers of images.
Francis Bacon is one of my favourite artists. I'm fascinated by his ability to deform human bodies to the extent of being almost unsettling while still retaining that sense of familiarity. I love the texture and shadow in his work — it feels as though they have absorbed time itself. I'm also a great admirer of Bill Viola, whose image-making and immersive installation works are something that I've always looked up to. And Michael Snow's ability to manipulate images and create a sense of spacious consciousness has left a lasting impression on me since the beginning of my creative career.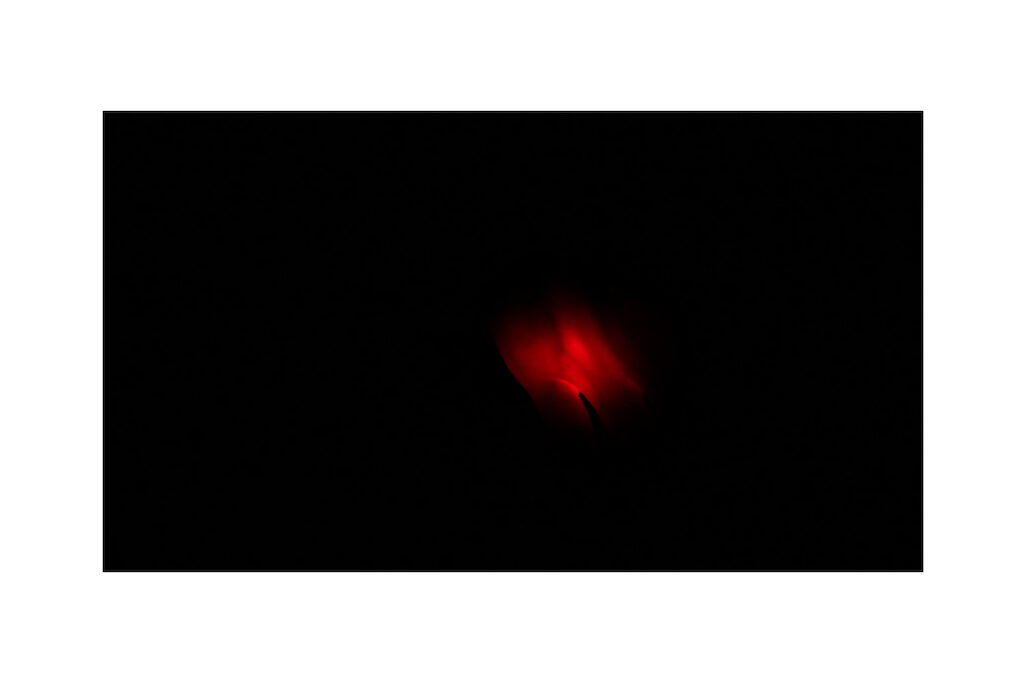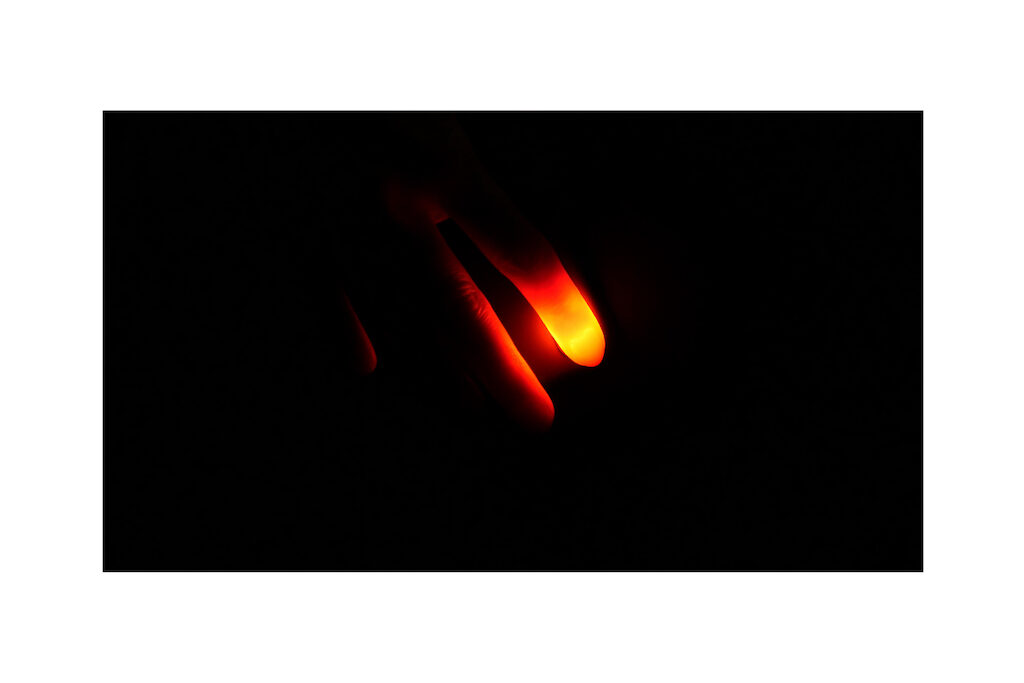 AW: Riyo, your works engage with the passing of time, would you say that you are a nostalgic person?
RN: You could say that. Talking about nostalgia, memory is something that I often think about when making works. The memory of familiar surroundings that we share, and how that affects the way we see things. For example when you see an apple, you know the texture and weight, even if it's projected bigger than yourself you know the feeling of holding it in your hand. So I often try to manipulate our common recognition or even exaggerate to create unfamiliarity in familiar perspectives.
I also think time is able to not only bring more reality to the image but to disturb it simultaneously. People unknowingly assume how things move, and by seeing the way it moves we perceive the subject's weight and size. I like changing the speed of movement to create uncertainty. When I make videos, I try to visualise the density and weight of the time by altering the speed or sound, using layers of photographs, in the process I think about adding how many frames per second to create depth in movement as well as time.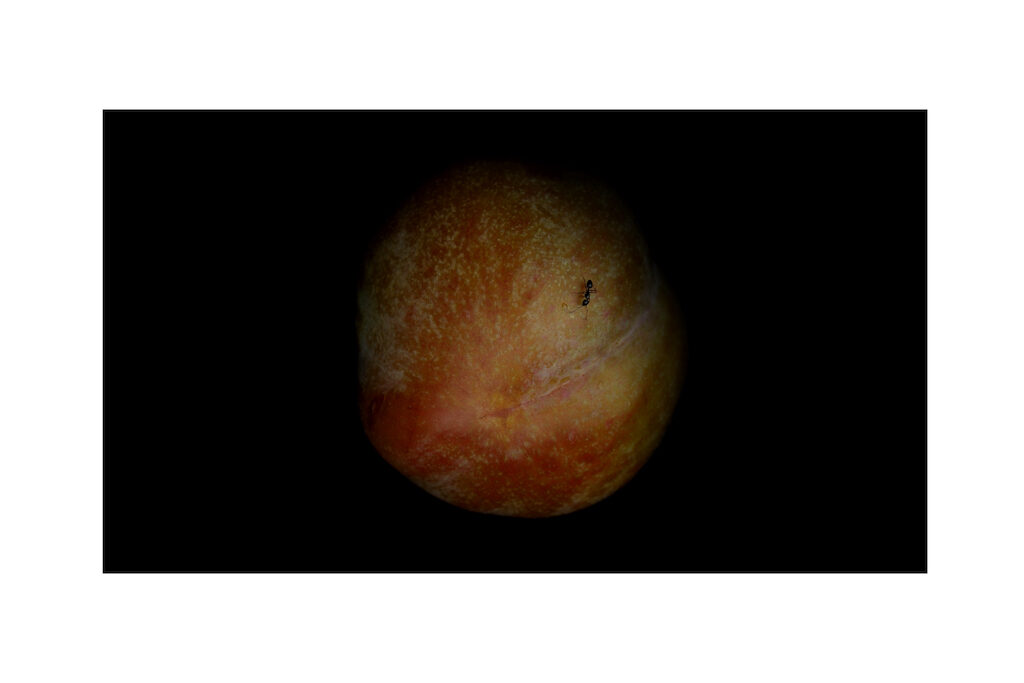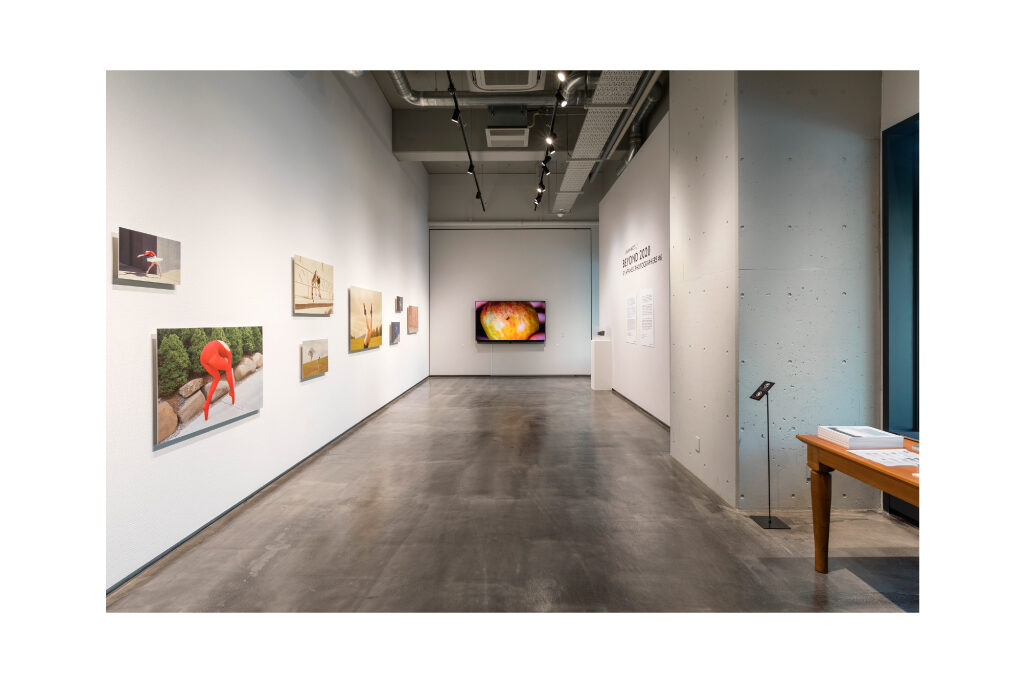 AW: What is it about the medium that fascinates you so much? Or perhaps a more romantic way of asking this question would be, did you choose the medium or did the medium choose you?
RN: I like the lights, sounds and impact that video possesses, that's what I'm purely drawn to, plus the depth of time which I have in total control to disperse or condense. When I first started using video for my work, it was more of an instinctive decision. I was terrible at painting or drawing but with video, it felt more free. Nevertheless I admire the process of painting — how you can start from a blank canvas to creating an infinite imagination. Whereas for video and photography, you usually need to provide the subject to capture. Although technology imposes a certain limitation, at the same time there are countless possibilities, and how it challenges me to make the shooting subject into my complete creation is what's captivating for me too.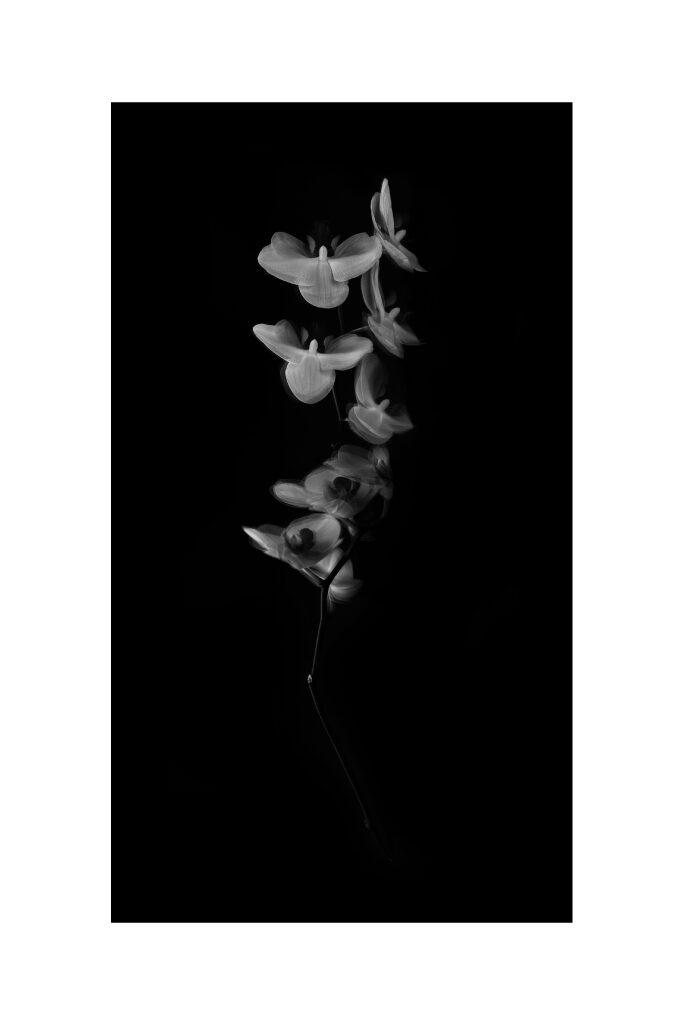 AW: I remember watching this performance by TAO Dance Theater2 at Sadler's Wells in London back in 2014 — completely baffled by the repetitive choreography at the beginning, it just wasn't like any contemporary dance that you would come to expect. After a while I started to realise something different, repetition, isn't it kind of like what life is really all about, we follow the same routine, day by day, year by year the cycle continues, and we try to find meanings among all these repetitions, these cycles. During the performance, underneath the repetition, you saw the limit imposed by the human body, and you saw discipline, there was a balance of restraint and abandon, and yet you sensed a desire to break out of the repetition, you sensed an emergence of chaos, it's almost like an abstract expressionist's painting. Riyo, your work to me feels a little bit similar, in the way that you do repetition and infinite looping, that they can feel palpable even, what does repetition mean to you?
RN: Repetition is one of the aspects that I've been experimenting with in my work. I'm intrigued by the limitations and abilities of the medium I work with, and how video has the power to transition between the real and the unreal.
As we live in repetitive daily routines, the same goes for dance too, our bodies repeat the same movement over and over again, and there are numerous different sizes of repeating cycles overlapping in our life. However each time it's never quite the same movement. On the other hand, in video, you can repeat the exact same movement yet it becomes unnatural. I like experimenting with how we unintentionally ignore aspects of certain things in order to see what we want to see, and how quickly we take notice of the uncertainties.
Frankly videos cannot be repeated infinitely as they essentially run on electricity as a means to be materialised. At the end of the day, someone has to connect the media and switch it on, otherwise it cannot exist — in that sense, digital works are more unsustainable than paintings, comparatively and technically, they, in fact decay much faster. I've been thinking about this for my work and this underlying contradiction, which I also see the similarities in some aspects of our life as we live through the repetitive daily routine and we tend to forget that things don't last forever.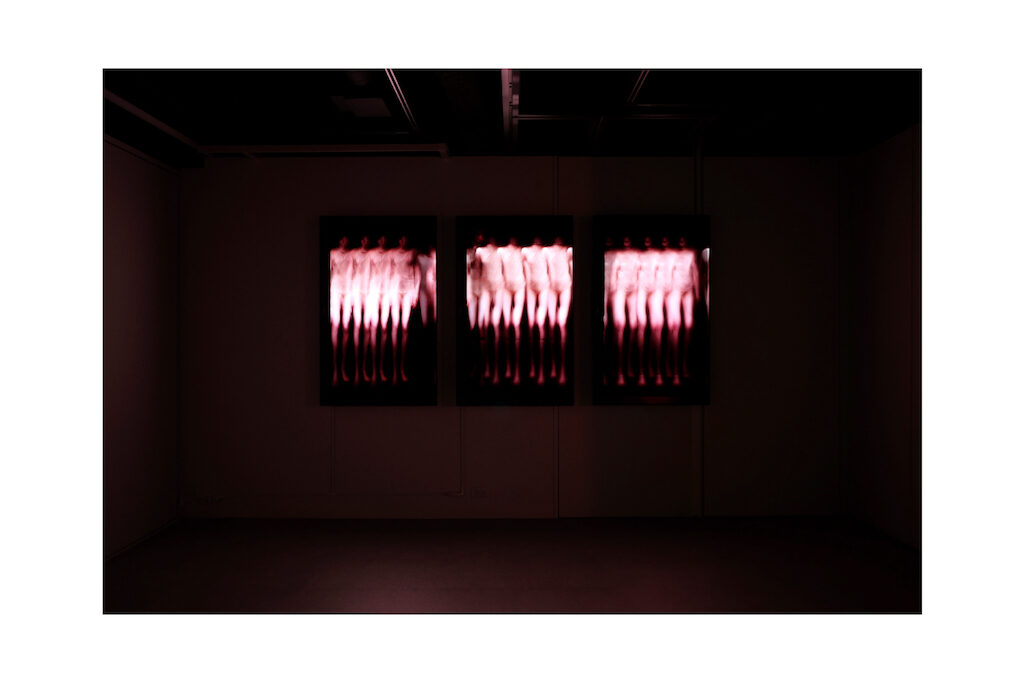 AW: We can't really not bring up the pandemic. How was this whole thing for you?
RN: It feels like the last three years crept by so slowly, yet memories feel few and far between. I was scared and frustrated at the beginning of the pandemic, uncertain of what tomorrow or the future would bring. The constant barrage of news reports during that time obviously had a significant impact on me, as it felt like the world was shifting and changing at an unprecedented rate. But amidst all, it was incredible to see how the entire world shared in this collective experience, it was surreal that someone halfway across the globe could relate to my fears and concerns.
AW: Referencing Georg Baselitz once more, who said that good art should come from misery. During the pandemic, societal changes aside, I felt that there are some riveting ideas being thrown around, resulting in something different, be it meaningful or not, like NFT for instance. Do you agree with what Baselitz said?
RN: I like that idea, I think misery is in some way unpleasant but strangely alluring and we still haven't quite grasped it fully yet. People look for change when they are desperate for change. After experiencing misery, you are forced to move forward and seek out something new. Restriction may spark new ideas, albeit resulting from misery. Isolation slows you down or stops you completely, forcing you to look around yourself more deeply and more elaborately, like seeing through a macro lens, and you might just find something that you were too busy to notice before.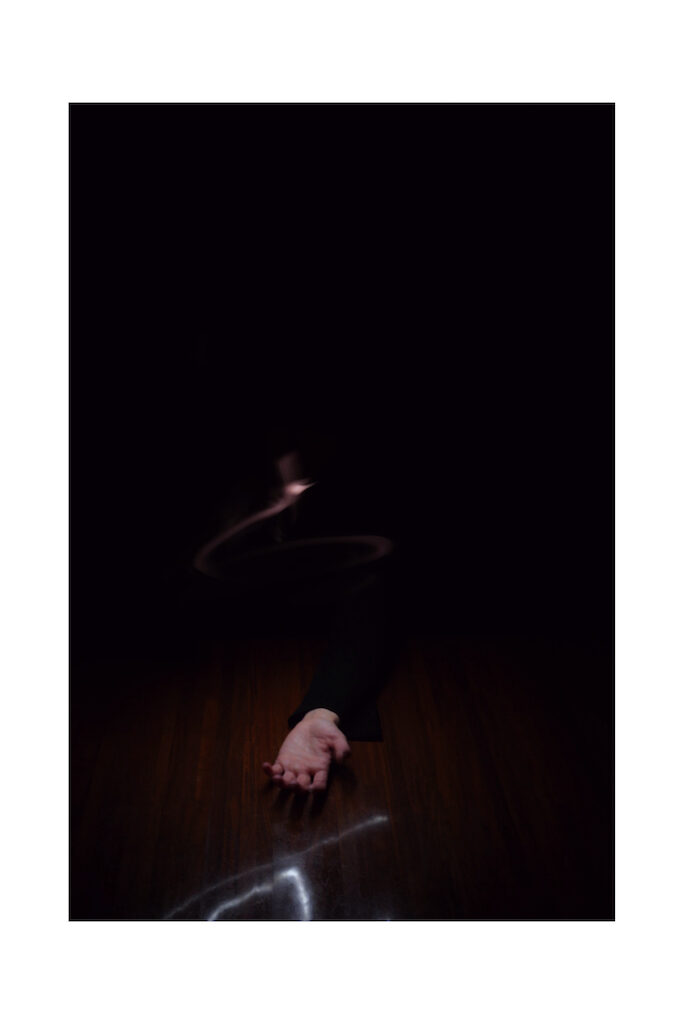 AW: Is there any other media that you are looking to explore in the future?
RN: I'm always interested in performance so I definitely would like to apply some performative live elements with video works in the future, where videos and people are crossed over with each other in the space, every time the video repeats itself it would be different, changing. I tend to make videos in such a precise way hence I want to inject more rawness and unpredictability that performance brings to the table — how each repetition of a person's movement can be unique.
Video has been and will continue to be my primary medium, though I also incorporate photographs into my videos. My aim is to integrate video, photography, and live performance into a single creative process, resulting in a more immersive experience that seamlessly transitions between two-dimensional and three-dimensional forms. In this context, I am keen to delve more into installation work and explore the spatial possibilities of flat images in a three-dimensional space.
---
1. The term "Hāfu" (ハーフ) is used in the Japanese language to describe individuals who are of mixed Japanese and non-Japanese ethnicity. The word is a borrowing term from English and literally means "half," which reflects the person's non-Japanese heritage. Additionally, the term can be applied more broadly to describe individuals with mixed racial ancestry.
2. TAO Dance Theater is a contemporary dance company based in Beijing, China, founded in 2008 by choreographer Tao Ye and has gained international recognition for its minimalist and experimental approach to dance. The company is known for its use of repetitive movements and the exploration of the human body's relationship with time and space. They often perform in silence, without music or props, to emphasize the dancers' movements and create a meditative atmosphere.
---
The original interview was conducted in English by Axel Wang on 26 September 2022, edited on 28 March 2023.
Introduction, Editor and Design: Axel Wang
Photography & Video: Courtesy of the artist
---