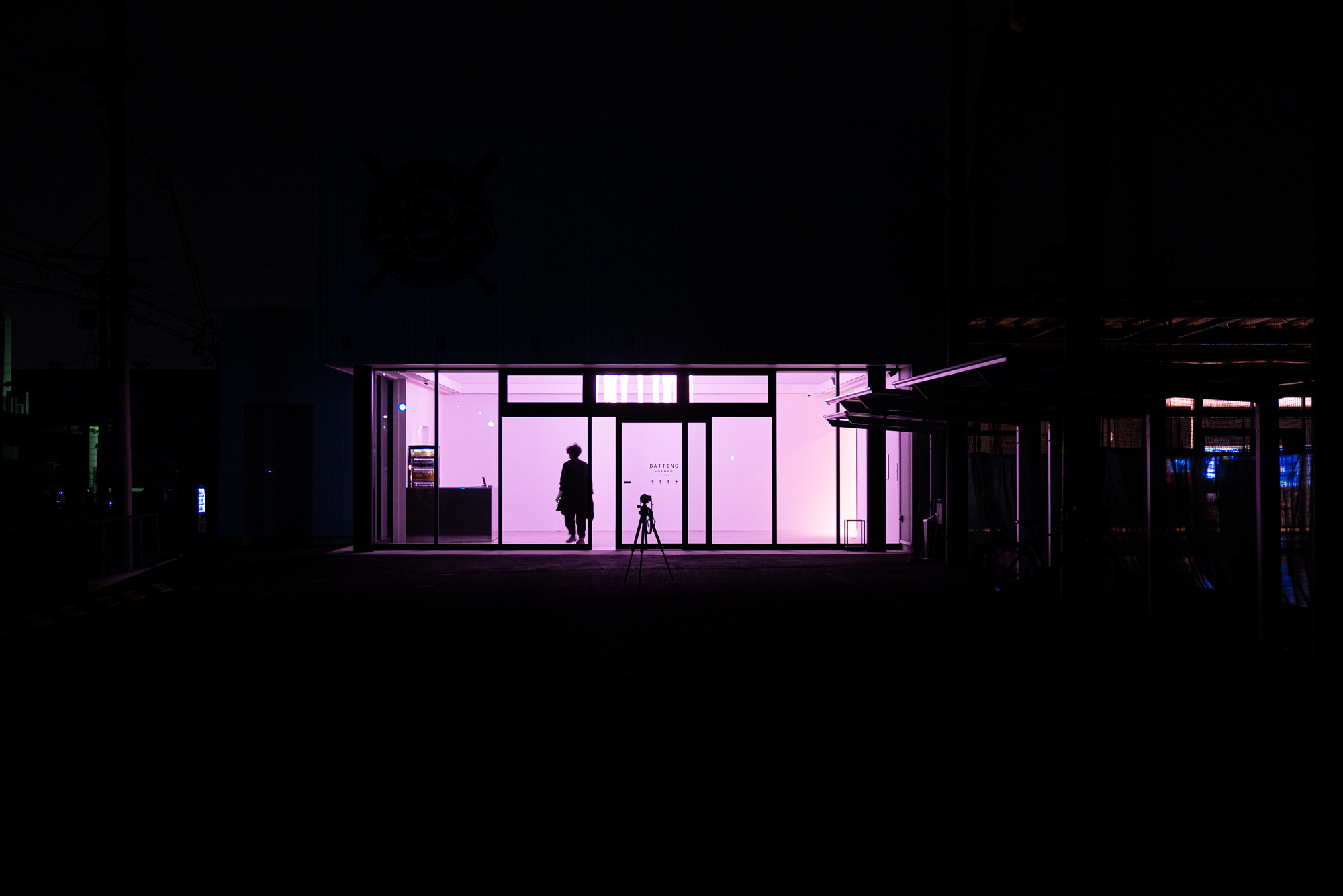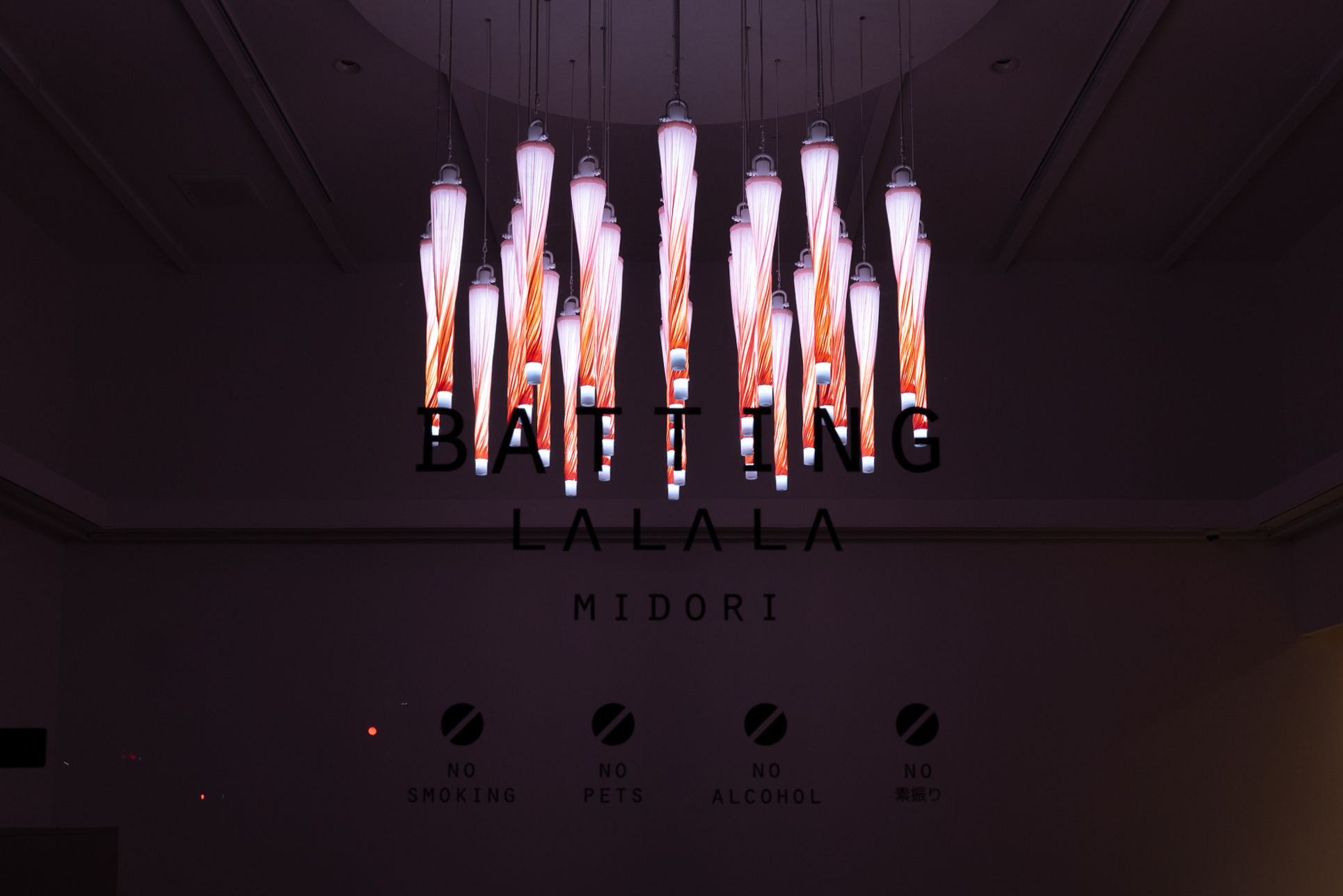 Upon the completion of her light installation work: [neuro−muscular interaction 神経−筋 機能] at Batting LALALA Midori バッティングららら, as the producer of the project GROWING SPACE, SYNONYM spoke with Riko Yasumiya 安宮 理子 the invited artist, about her background and experience, as well as aspects of the project itself, for her profile please refer to the following link.
Axel Wang: Riko, let's start with where you are based now. I love Tōkyō (東京), every time I go I always enjoy it, though I suppose living there is a completely different story. The last time we spoke you expressed some slight distaste for residing in the city, can you tell us why?
Riko Yasumiya: It's just too complicated, there's this constant flow of information accelerating the pace of a society that's already moving too fast, it almost became a custom or norm for everyone within to chase after this trend of fluctuation, there are people who try really hard at applying themselves to the trend, I guess this results in a gap of disparity between myself and the mass, it's exhausting really, and I sometimes feel a little bit alienated. I'm sure there are others who feel like I do, the society is hugely diverse and it's not lacking in great personalities who express themselves, in fashion for instance. On the other hand because so many things are happening all the time, expectably, there're more opportunities and excitement.
AW: How would you describe your experience living overseas compared with Japan?
RY: When I'm in Japan, I'm Japanese, when I moved overseas I naturally fell under the category of a foreigner. Being in a micro-environment like a school say let's say, I still belonged to the group of foreigners, even though there are many immigrants in London. I remember feeling desperate in trying to find out how to be recognised as an artist, even more so as an individual, instead of being seen as just another one of the many foreign students who go overseas and sightsee. The schools themselves are very different too I felt, in Japan, it's more about the craft, you pay more attention to the skills and the techniques etc., whereas in the UK the work you do at school is evaluated on the basis of concept and presentation, same art but different perspective, I think that was something extremely valuable for me to learn.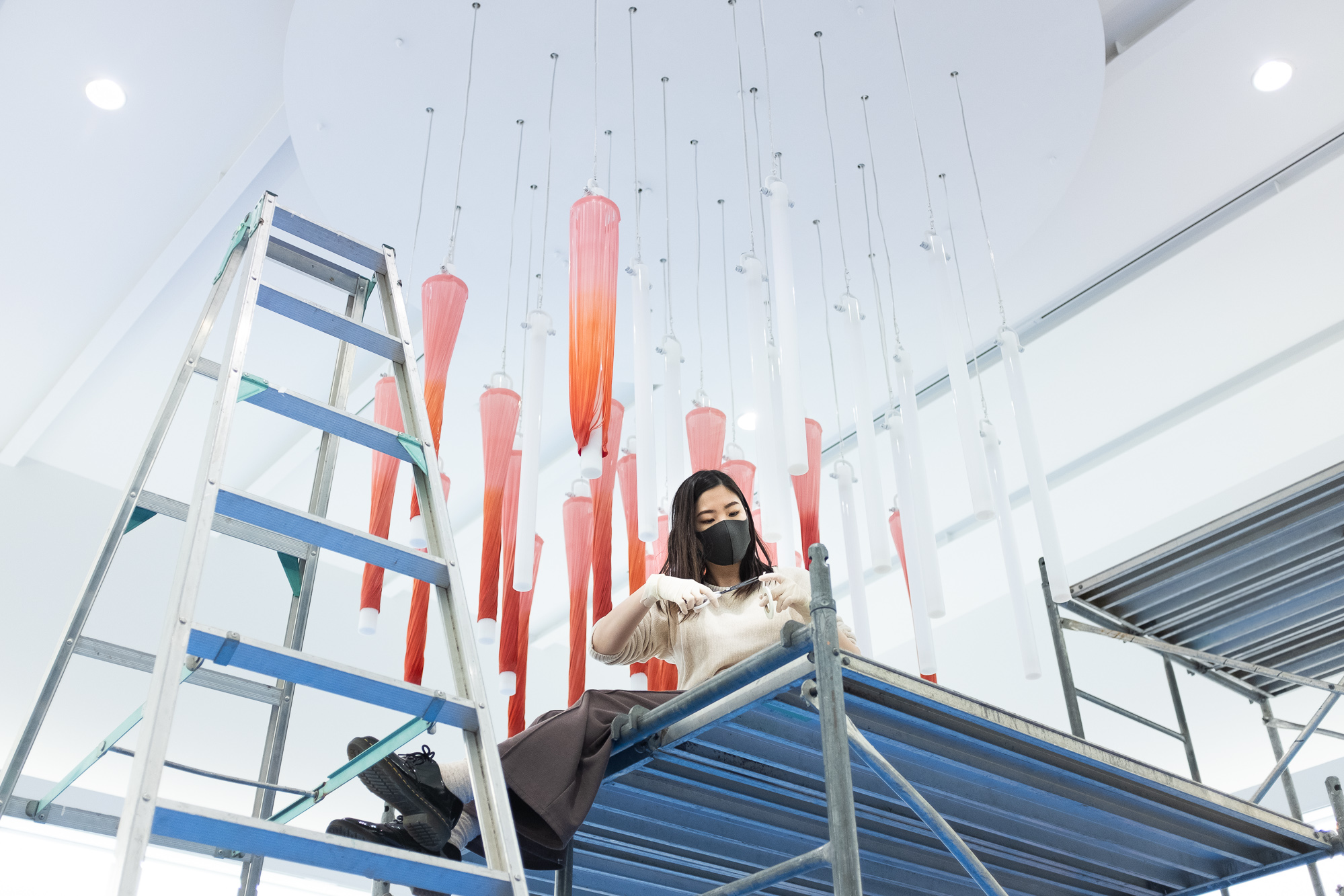 AW: Rewinding the clock a little bit, you moved away from studying graphic design in Kyōto (京都), to art and science in London, any trigger behind this switch of field?
RY: Allow me to clarify, while I was in Kyōto my major was digital design, so other than graphics, the course also involved game design, illustration, video animation and such, using a variety of digital creation tools, the department emphasised on the learning of different techniques and wasn't about graphic design alone specifically. My interest in making mixed media artworks utilising both digital and analogue methods started to develop back then, I used to produce human anatomy-related works at a very early stage in university. At the time I couldn't afford a 3D model and there weren't any apps available either, the one thing I could do was flipping through anatomy books, gradually building a virtual model in my head and compare it with the illustrations in the books, in order to understand the human body better. The more I progressed, the more I realised I needed to learn from experts and professionals hence my decision to pursue my study in an interdisciplinary course related to art and science.
AW: Further comparing the difference, how do you think your art is perceived by the public or the professionals in the two places?
RY: I would like to think that my work is perceived positively in Japan and overseas. I guess if people find it interesting that's more than enough for me, who you are is not really my concern. In London, you tend to find artworks or crafts almost everywhere, it's just something you encounter every day. On the other hand, these works are predominantly exhibited in art museums or galleries here in Japan, hence people have fewer opportunities to feel, to touch, or to experience artworks here outside of those establishments. Also in the perception of most, they associate art with traditional fine art, like a painting for example, whereas my works are oftentimes mixed media, therefore the public may not recognise it as 'art' or mistake it for something else, which can be a little frustrating.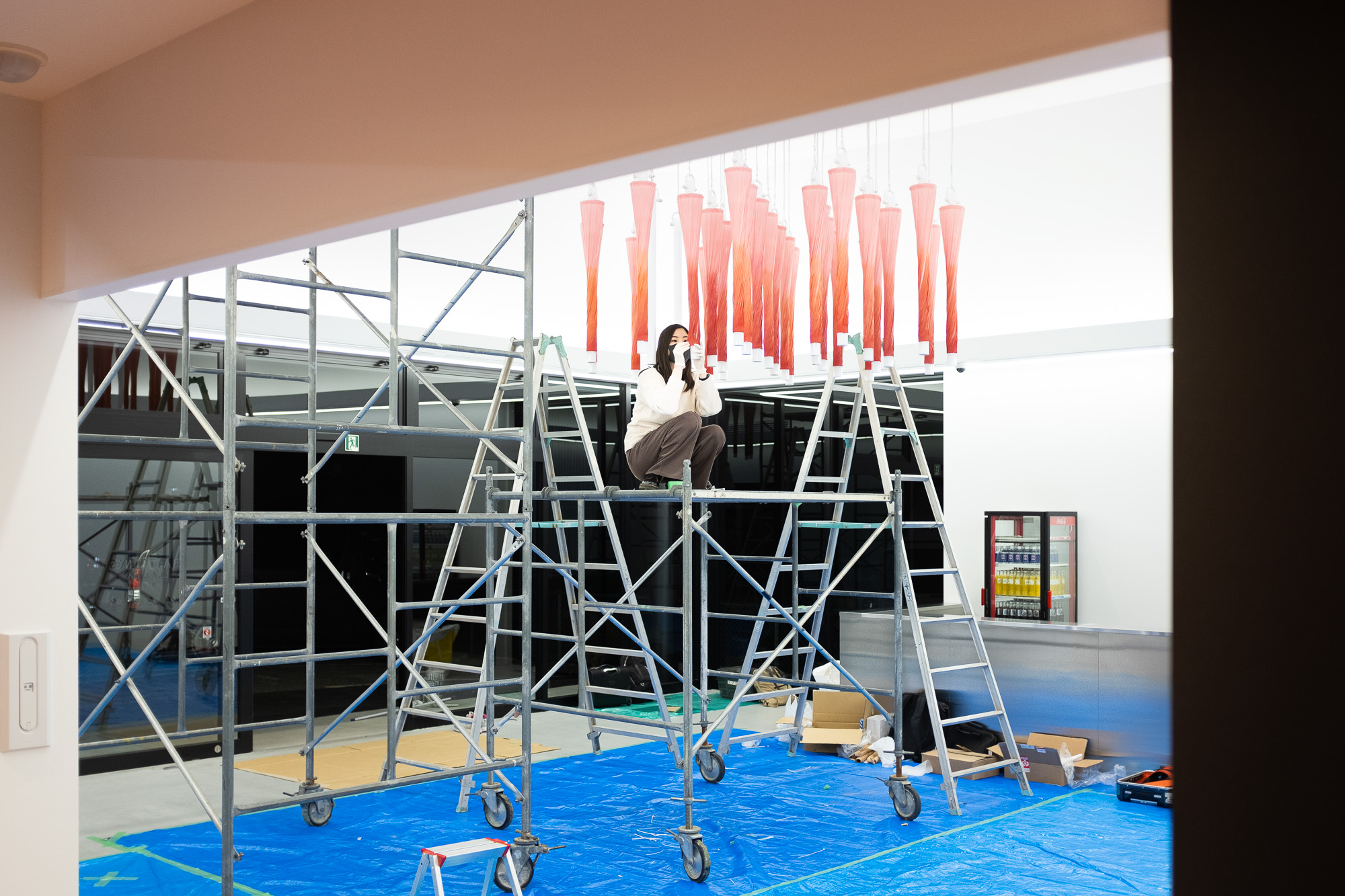 AW: I think many of us consider art and medicine to be separate, how do you see their relationship yourself?
RY: Both medicine and art originated from philosophy in ancient times, as time went by, they both evolved in their own ways into different branches and acquired their own names1. I think that every field exists because human beings are always driven by curiosity and a sense of discovery, despite that medicine and art are more or less considered separately in modern times like you said, it was still fairly ambiguous around the 13th century, it was only until the 16th century the two fields emerged as independent subjects. Many significant historical figures, Leonardo da Vinci for example, was an anatomist, engineer as well as an artist. With the invention and introduction of photography in the 19th century, there's practically no need for realistic illustration in medicine anymore, instead medical imaging science had sort of taken over the place of art in the field of medicine completely as technology advanced. I think historically, art and medicine started to go against each other's way because it lies in artists' nature to seek to express whereas in medicine, it has more to do with precision and accuracy. Nonetheless in the past, one way or another, both had always collaborated and contributed towards the development of each other's field. The research and study from the side of medicine were illustrated by artists, so that people could understand it better when it's published; as medicine developed the works from artists also improved and became more convincing. For me this cross-disciplinary collaboration is highly intriguing.
As an artist I felt that my role is to ease the communication between doctors and patients via artworks. Medicine became more transparent and there are fewer mysteries surrounding it nowadays. Throughout the course of history, as human beings progressed further, we were able to cure more diseases but the barrier in communication between medical workers and patients would always exist because pain and suffering are always subjective, so this would probably be an eternal challenge. On top of it all, in order to convey the symptoms correctly, the right words and knowledge are required for both ends. In my opinion this is not so much related to education in school, because even if it's in the curriculum, people would simply put it past them if they have no interest in the subject. I believe curiosity is the root of human being's hunger for knowledge, the human body fascinates me and I wish to share that fascination with people via artworks, so maybe one day after experiencing my works they could become interested in the subjects of biology or medicine, even by a tiny bit!
AW: Touching up on the topic of health care, there have been previous examples of art being prescribed to patients, so fine art is like a medication in this case, like a therapy, obviously this is going to be circumstantial, but how do you think art in general can somewhat be a good medication to patients?
RY: Jill Sonke presented a talk about why medicine needs art2 back in 2015, where she talked about the relationship between creative expression and health care for patients with mental illness, so it's definitely a topic of discussion for many of us in the field. Although I haven't really thought much about it since it's not the centre of my work, art therapy is already an established practice and I do feel that clinical psychology is becoming ever so close to the world of art in a sense that, I know this may sound a little bit obscure, but I believe our inner body is able to respond to or pick up the wavelength or signals, produced by the visual or auditory elements of an artwork, along with some other external factors, almost like a calming effect depending on the works, like they could bring us peace of mind.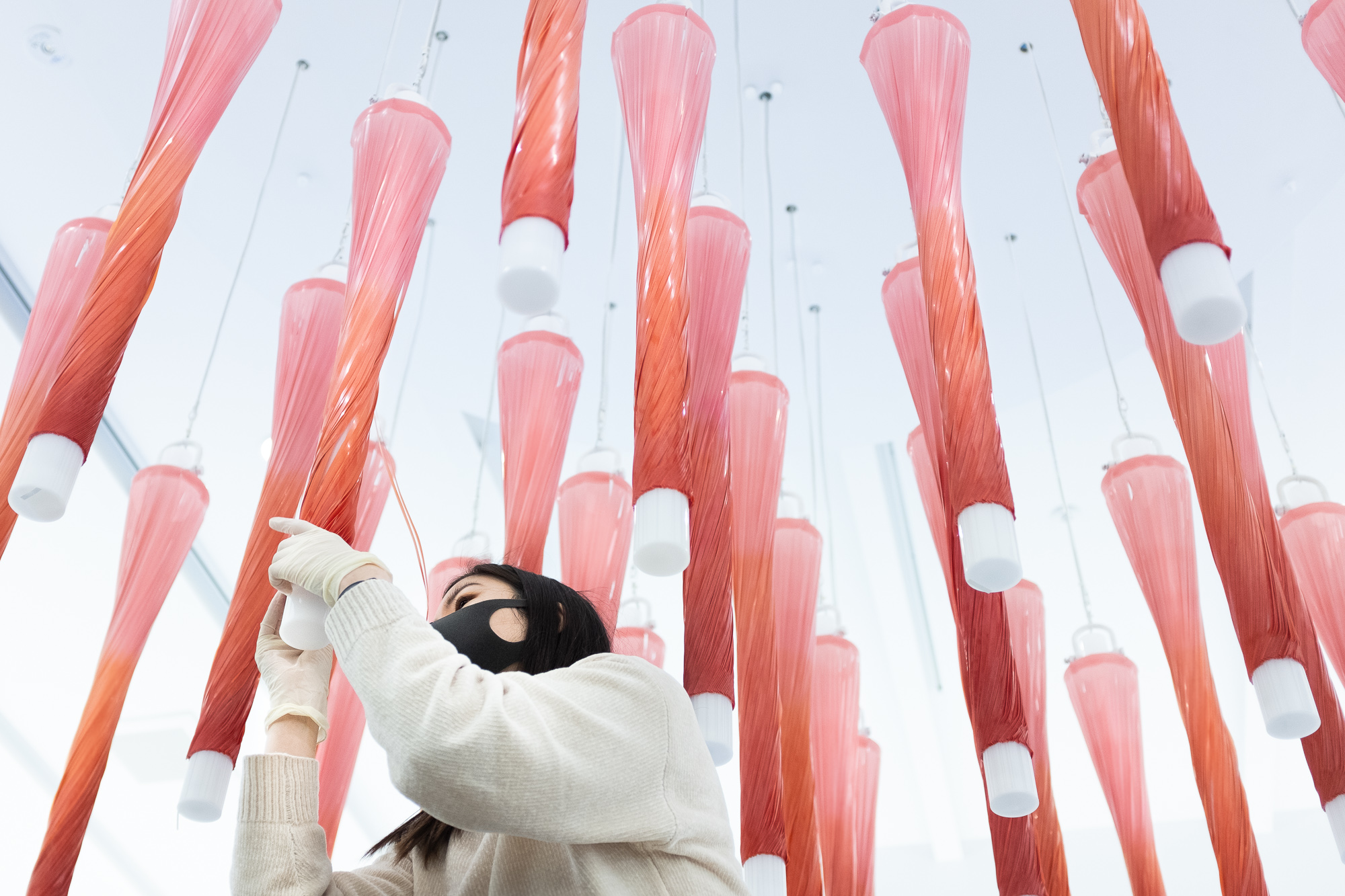 AW: Being born and raised in Japan, how do you think your characters are shaped by Japanese culture? Any particular influence from Japanese artist at all, or any for that matter?
RY: In terms of the realisation of the work, I think I'm definitely influenced by the minimalistic design approach, also the Japanese' attention to detail and the emphasis on craft, that the work has to be meticulous and precise. My family was also a huge influence because both my aunt and uncle worked in the medical field, I think that's how my interest in medicine developed in the first place.
| | |
| --- | --- |
| ©Riko Yasumiya | ©Riko Yasumiya |
I honestly don't think there's any way to separate myself from Japanese art and culture, the likes of manga titles for instance, especially the visual aspects of Evangelion (新世紀エヴァンゲリオン) and Attack on Titan (進撃の巨人) (AOT) also inspired me a great deal, in terms of how human anatomy and works of art are brought together. At some point I was certain that these exceptional manga artists were not only illustrators but also anatomists like Da Vinci, without discovering their works, I probably wouldn't be able to acquire this well of knowledge about human anatomy because illustrations do have their limits when it comes to portrayal and expression. Say in Evangelion, muscle fibres are kind of growing out of gigantic industrial robotic parts, joining together to form a larger system, whereas in AOT, you see various human tissues like muscle fibres, organs, skins and all the flesh connecting to the bones before they construct the shape a redesigned human body. You obviously don't come across these types of physicality and body movements in the real world, but they sparked me to think about the fact that despite the human body being considered one universal and unifying theme, there are all sorts of layers and dimensions to how it could be presented and expressed. Other great artists like Ryoji Ikeda (池田 亮司), Bridget Riley, Man Ray and many profound writers who contributed to the subject of anatomy from the 16th to the 19th century, like Andreas Vesalius who wrote De humani corporis fabrica libri septem and Jean-Baptiste Marc Bourgery who was the author of Atlas of Human Anatomy and Surgery, I found them all to be deeply inspirational, even Grey's Anatomy too.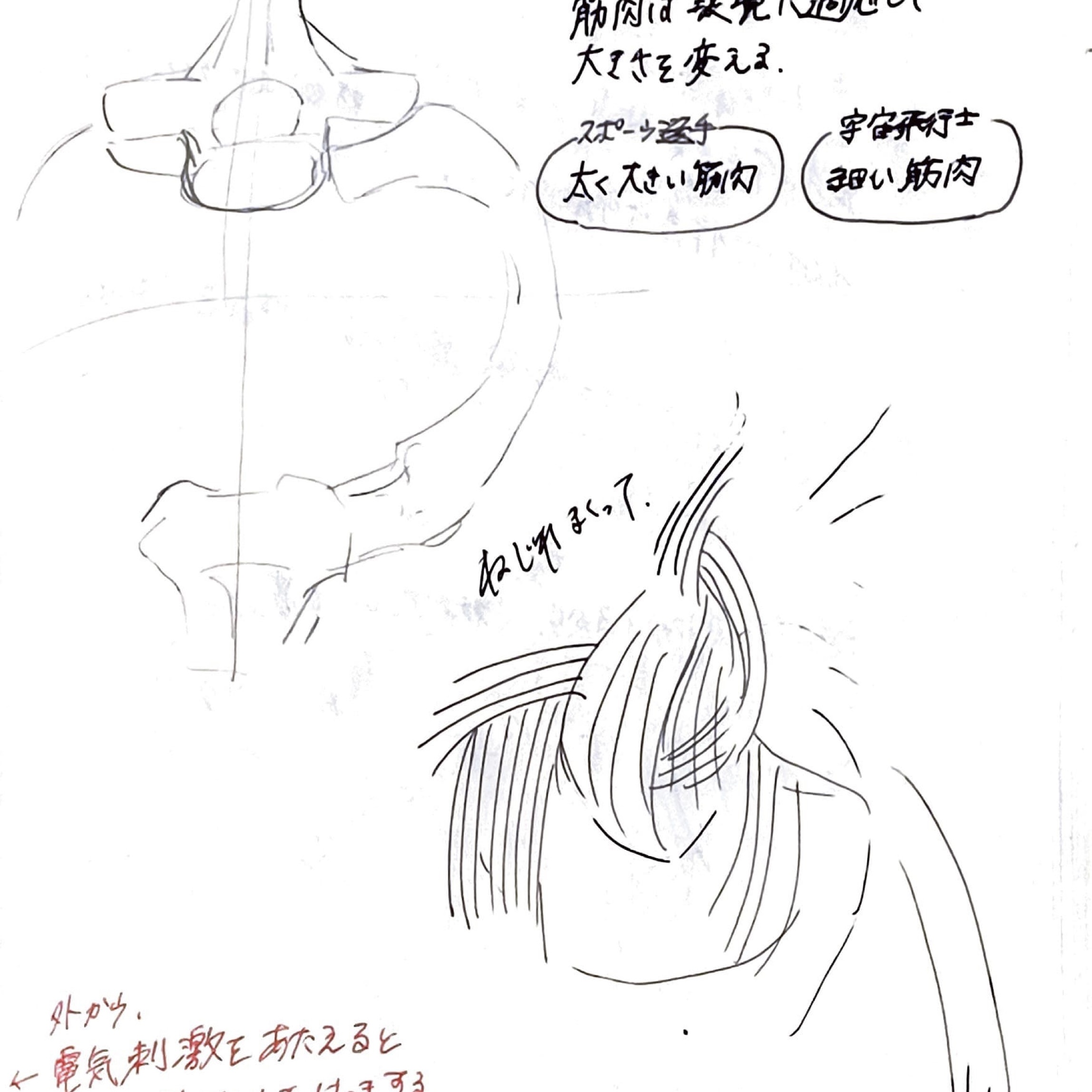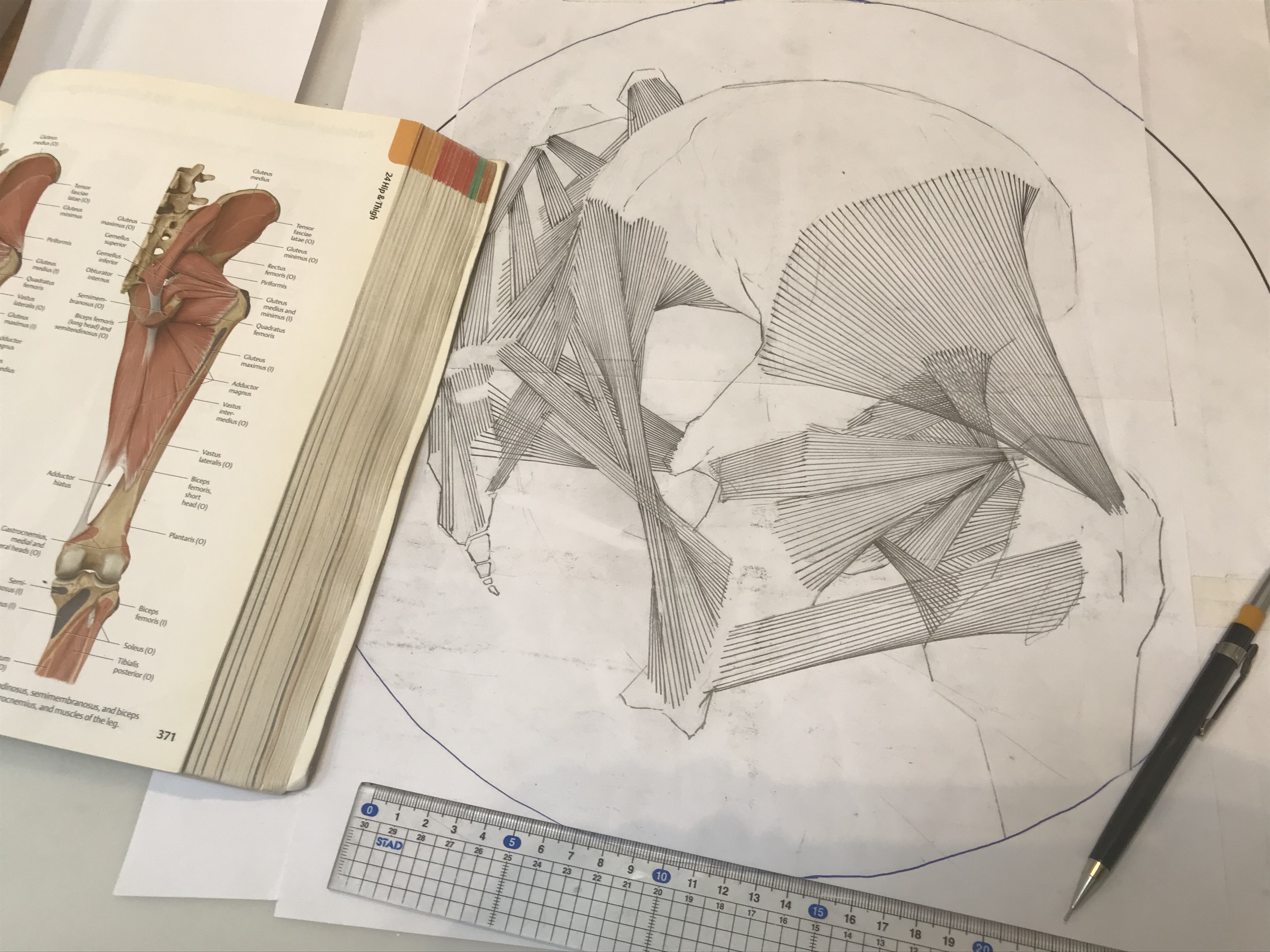 AW: This project at LALALA is your first commissioned project after graduation, I imagine it can be somewhat overwhelming, especially surrounded by literally all men working on site, how would you describe your overall working experience this time?
RY: Speaking from experience, artwork installation tends to involve a lot of carpentry, handling of machinery, tools, lots of heavy-liftings and so on, it just happened that on the day only male constructors came to the site. Everyone involved in the project was a specialist and a professional, gender for me wasn't really an issue. If I'm honest yes, it was a lot to take in for my first commissioned work, though I would say it didn't drift too far off from what I have always been doing which is realising artwork presentation. There were many other tasks that I had to worry about so it wasn't just about the making of the artwork, which was of course my main responsibility, so I genuinely appreciate everyone's effort in actually making this happen.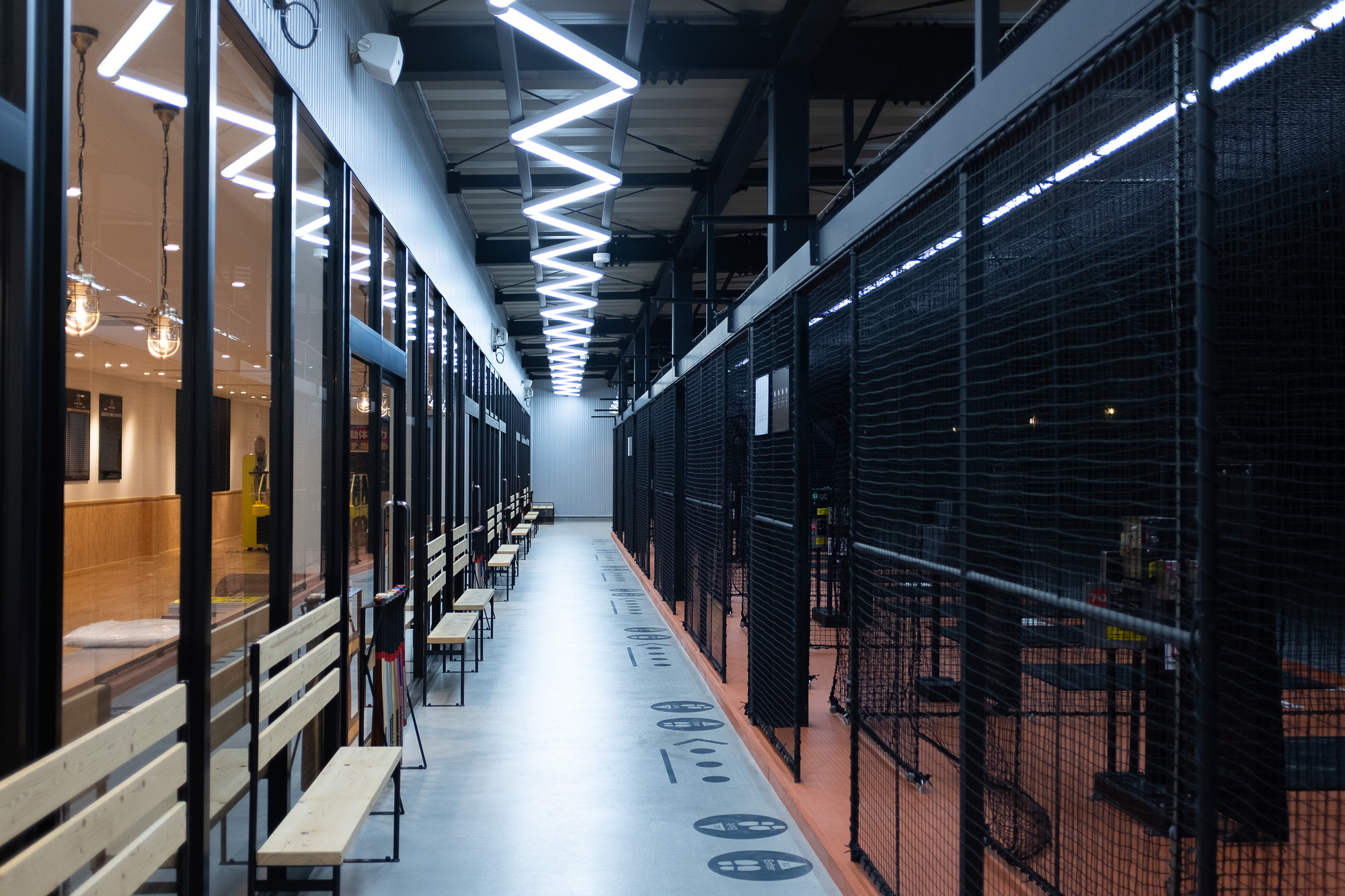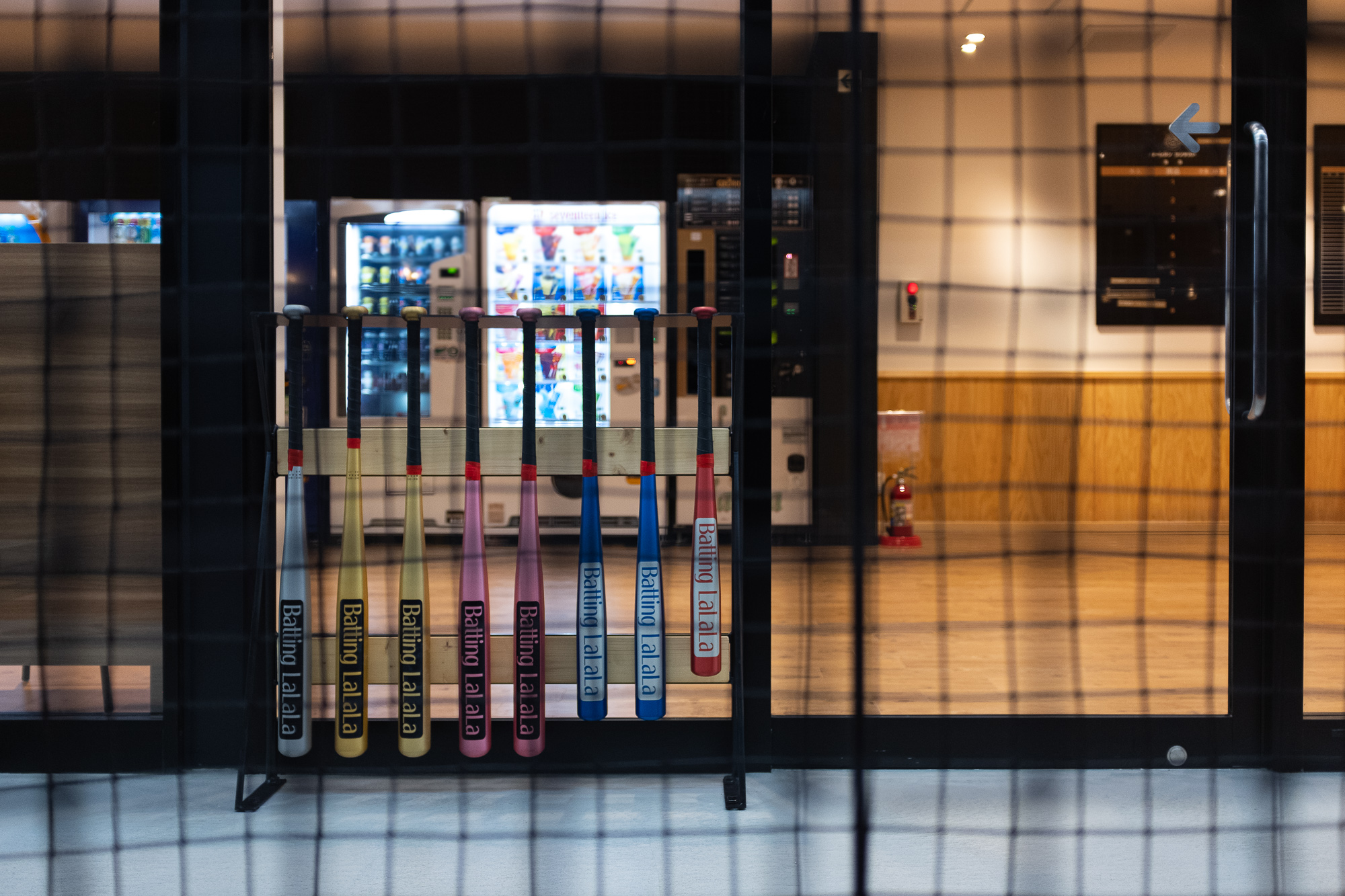 AW: Thank you for your time Riko, one last thing before we go, how are you affected by this global pandemic?
RY: Definitely, plans had to be re-adjusted, I would be lying if I told you that I have no concerns over the production or presentation of my works. I think ever since the beginning I've always wanted to present artworks with an interactive element, due to the pandemic this has become very difficult. I talk about this a lot with my fellow artists hoping to locate the best possible solution of how to present our works, so lots of going back and forth there but I guess this is something we all have to reconsider given the circumstances. At the end of the day however, I do think works of art have to be experienced in a space that you don't normally come across on a daily basis, somewhere real and tangible, where you can relax completely, concentrate and immerse, so to speak. Hopefully we can get back to normal sooner rather than later!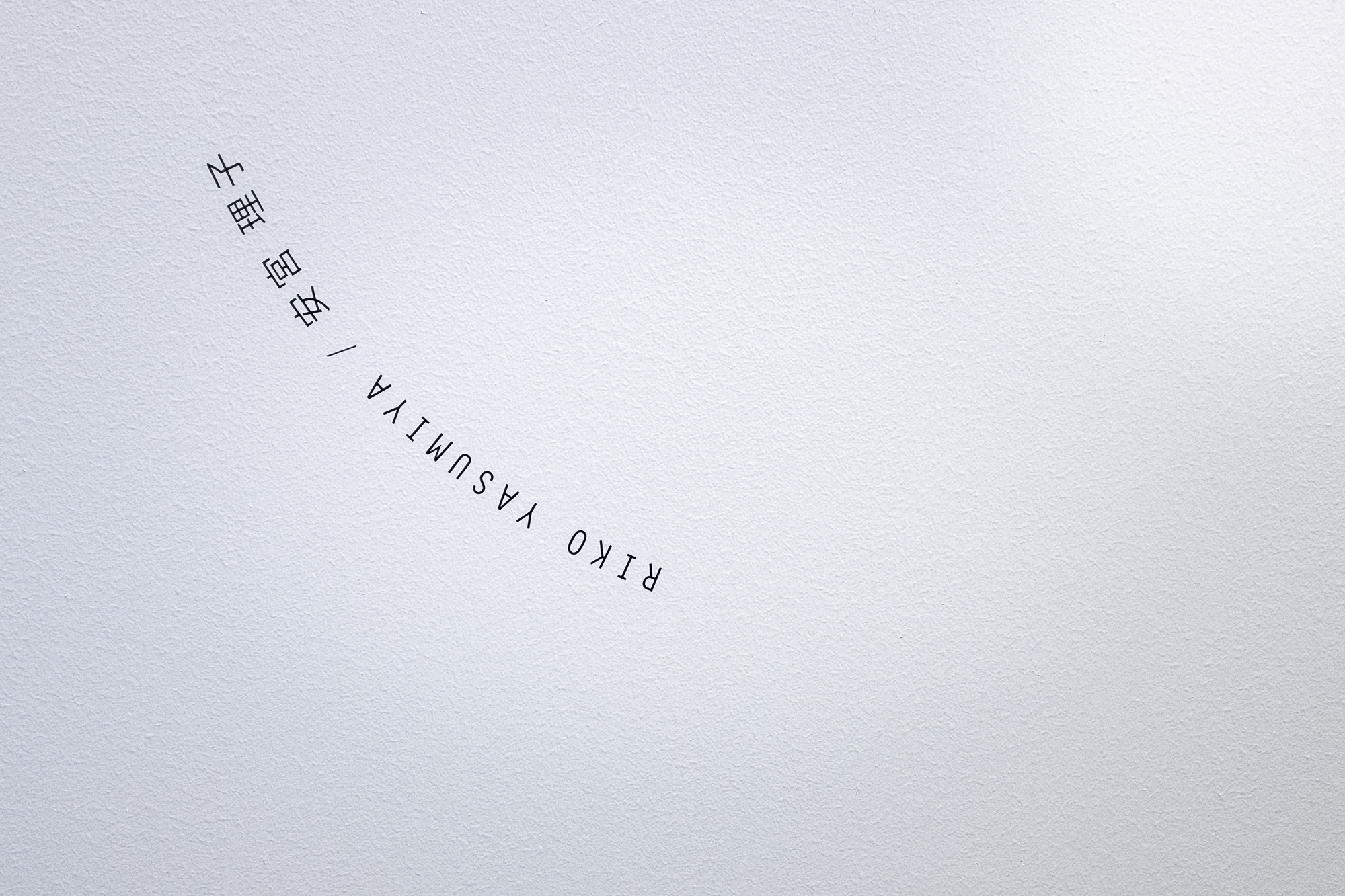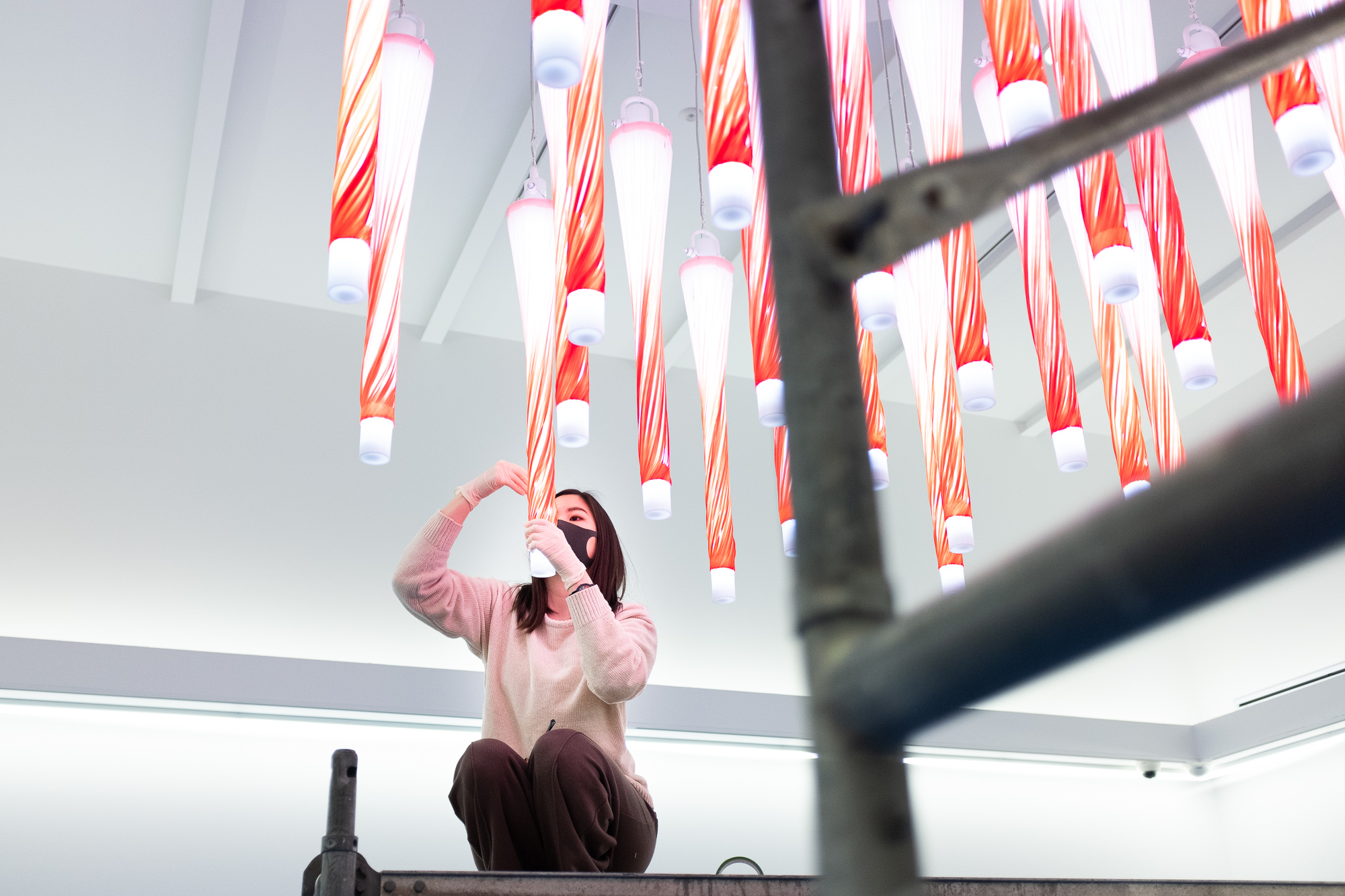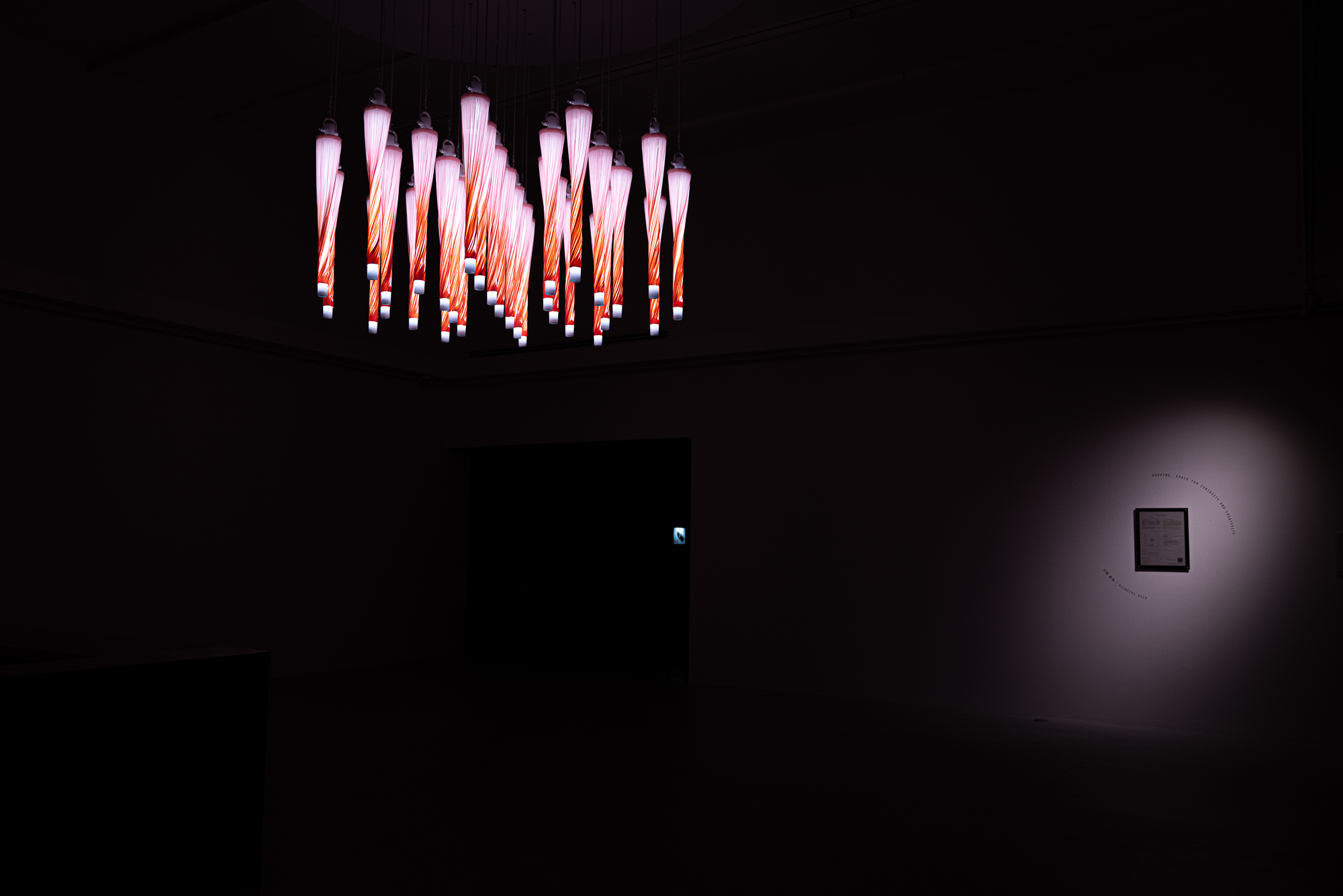 ---
1.  Human Anatomy: Depicting the Body from the Renaissance to Today (2006), by Benjamin A. Rifkin, Michael J. Ackerman and Judith Folkenberg

2.  For the TED talk please visit the link here.
---
The original interview was conducted in English and Japanese by Axel Wang on 28 Mar 2021.


Editor: Axel Wang

Design: Axel Wang

Photography: Axel Wang, contributed by Muga Shimosato (下里 無我) and Riko Yasumiya

Translation: Axel Wang, assisted by Soichiro Kimura (木村 宗一郎)


---