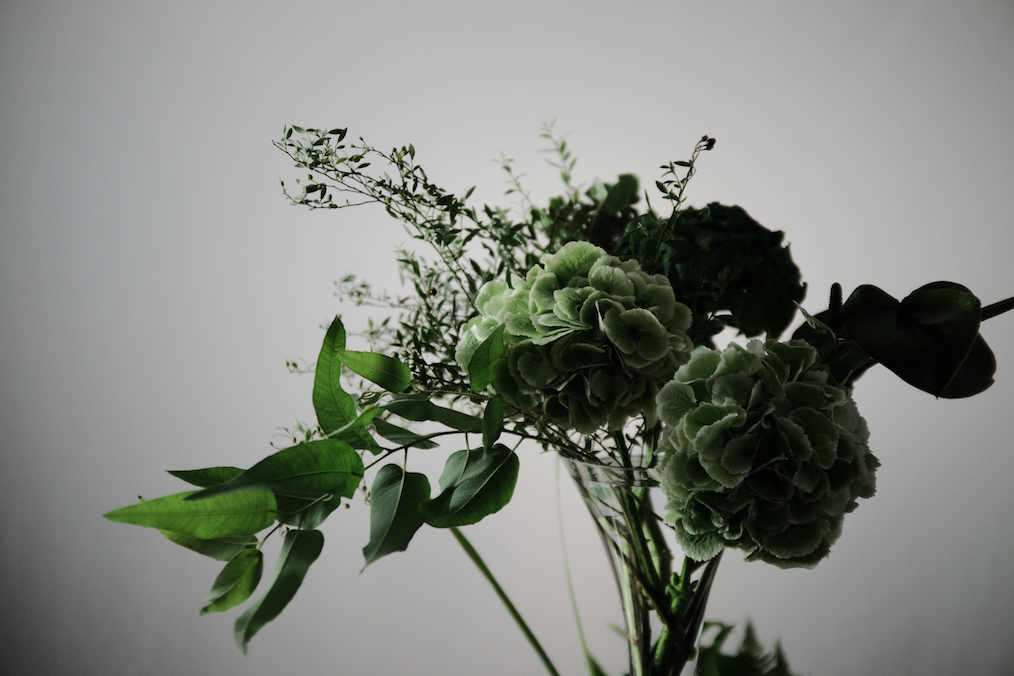 Smell
Soichiro Kimura: Let's start with 'smell'.
Yuka Fukushima: You might have noticed, that the smell of plants would change according to the temperature and the environment. When it cools down, the plants toughen you can just about witness a rise in the blueness and depth of its colour – like crystal; contrarily as it turns warmer they become softer and smell incredibly gorgeous. Imagine floating a piece of dry plant on any watery surface, shaking it and taking a sniff, a stronger aroma from the plants will release due to its cell destruction, I wanted the audience to feel these changes and possibilities, as well as creating a new scent by mixing up a variety of distinctive smells, which was also the idea for the installation this time at SYNONYM. What I was also hoping to experiment with, was how to preserve the original olfactory characters of the plants' through distillation, the purifying process would remove any contamination and foreign elements, if successful, we would potentially be able to experience that organic fresh smell out of the plants any time of the year.
Do you remember that first time when you walked into the forest; when you are out in the nature standing among the woods, when you smell that fragrance of morning dew and the forest air, hearing the sound of flowing rivers – our bodies are able to memorise all these sensations according to the Proust effect, that smell does trigger memories, the theory always comes to my mind whenever I create, drawing that connection between plants and people, hopefully my work can evoke something they had once experienced and are able to relive those events again. Plants are an integral part of human lives, this piece I created for the exhibition also serves as a reminder that we are indispensable to one and another.
Distillation
SK: We titled the installation piece 'Distillation', have you been experimenting with the actual process for long? I assumed it's not a required task at work.
YF: Initially I was investigating water as a subject without being overly interested in the notion of distillation. Being a floral designer, understanding the quality of it has always been an imperative part of the job, we have to ask questions like what and where lies the best and suitable water for which plants and so on. In reality plants can survive with the tiniest dose, even in the desert, they manage to absorb it from the air and the underground, that's where the cycle begins, the quality of water will affect the well-being of the plants, which would then alter the quality of the air.
In some ways I suppose this also applies to humans, since around 60% of our body is made up of water, and the properties of it vary across regions of the world, ultimately it would affect the air we breathe in. Being born in Nagoya 名古屋 means I was nurtured by Kiso River 木曽川, when I go on trips I would always pay close attention to what the local has to offer, I've had this wild thought since started working with my family that one day, somewhere, eventually I would be able to locate that water just right for my own body, I wonder if that would change me in any ways.
My initial trigger for diving further into 'distillation' occurred when I went on a research trip to one of the distilleries specialising in crafting gin in Gujo 郡上, north of Nagoya, in order to test out the possibility of retaining the aroma of plants through distillation. The impression was that such process is primarily used for brewing liquor and sake, to my very surprise that the gin I tasted at the distillery wasn't like how I pictured, even though it was neat and despite that it was extremely popular on the market I thought it wasn't really my personal favourite at that moment.
| | |
| --- | --- |
| | |
I soon departed for the mountains at Gujo after hearing advice from the craftsman before jumping into any conclusion, needless to say, the air permeated up there was on another spectrum, the altitude was high and it was extremely slippery and dangerous due to the growing moss, once I smelled the air I wasn't going to miss on the opportunity of trying out the river water in the face of everything. It turned out to be an incredible experience, the river looked beautiful and radiant, almost as if it's a living creature, it would be an understatement to say that I was shocked by its taste. Contrast to the water from most parts of Japan, which is soft and lacks minerals, here on the other hand, it was hard and flavoursome, it was even glowing with a blue-ish tone under the sun. I then mixed the river water with the gin that was brought along and voilà, the gin seemed to have evolved and metamorphosed due to the added river water, it became so delicious and my initial suspicion about the gin was completely eradicated, the impact of the water was phenomenal.
By the end of the trip I just thought, I wish I could preserve all these, all the emotions, even the commotions, if I could distil that crispy taste of the river and the gin, the sense of having that graceful breeze passing through my hair and the warming sunshine glancing on the face, the feeling of how I was reaching out for the rocks on the mountain and treading cautiously among the forests, the rise in my body temperature and heartbeat, if I could preserve all the feelings and all the elements of the delicate nature in one transparent glass bottle wouldn't that be something else. Once again I asked the question of what's the perfect water, and how do we extract the best out of it, this intended separation and preservation process was what led to my sparks for 'Distillation'.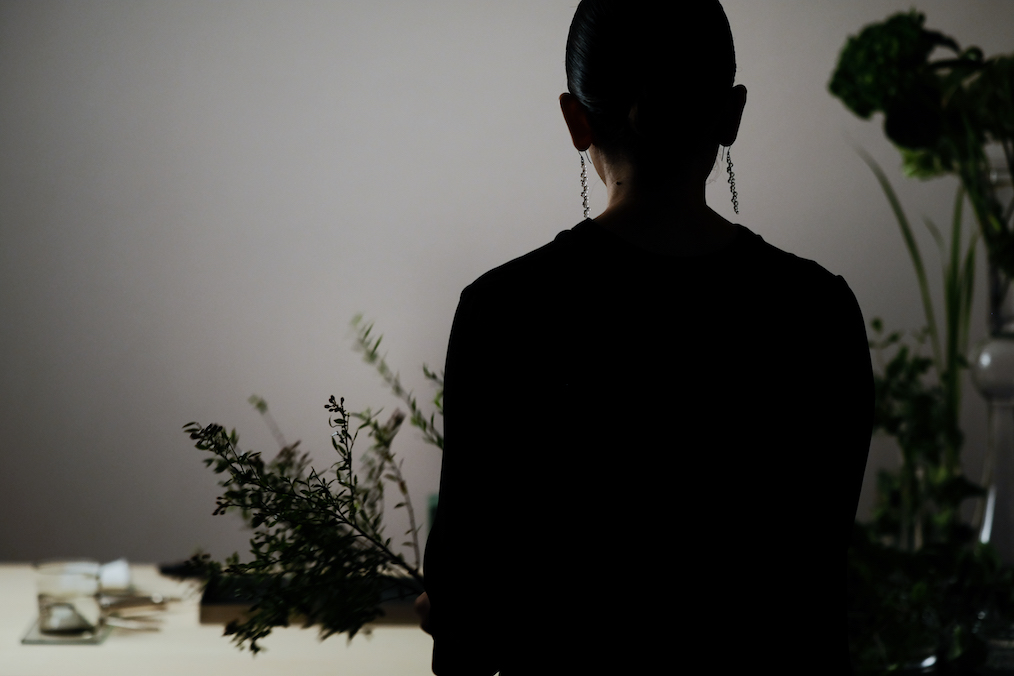 Independence
SK: I understood that you decided to move away from the family-owned business Marimo-en マリモ苑 sometime this year but I've never really asked you why, gaining independence professionally, I think that takes a lot of courage.
YF: It has always been on my mind, was looking for the right timing that was all. I envisioned Tokyo, like many others, where things are obviously more accepted and I went through phases looking for vacant properties for my business in the city, after a while however the idea just didn't sit right anymore, I needed to be able to work with the right people, and again probably like many, Tokyo was not a place where I felt I belong, hence why I thought it made more sense to stick with Nagoya, where I was born and bred, a city I also knew where to find the best nursery growers.
My older sister who also manages the business prefers things the way they are, on top of all this has been continuously running for 51 years – more than half a century, which is amazing and terrifying at the same time, so fundamentally it's not easy to change things around. Clients are ever more demanding, a significant amount of time and effort is needed to keep the business afloat and it's achingly draining for my own creativity, working at Marimo-en for 20 years and I'm now reaching 40, I think it's about time that I figure out what it is that I genuinely want as a person and a floral designer.
Japan
SK: You mentioned staying in Nagoya for the new solo adventure, do you think the city or Japan overall brought you any influence?
YF: Being Japanese, I think we are typically concerned with small little details and mundanity, and frankly we are very good at it. For instance I like pochi bag ポチ袋1, washi paper and Sanada braid 真田紐2 myself – trivial matters for a lot of people who aren't Japanese or unfamiliar with our culture; the likes of matsuri 祭 and uchimizu 打ち水3 are great examples too – the reflection of seasonality and seasonal presentation can oftentimes be so mundane that most would simply take it as a pinch of salt.
I remember getting a weird déjà vu while I was looking at a part of the painting 'Rakuchu Rakugai Zu 洛中洛外図4' stationed in Kyoto National Museum, it depicted detailed lives of common people in Kyoto during the Edo period so graphically, almost as if I was there, I guess we all fantasise about travelling back to the past to some degrees, for me the Edo period was perhaps the most captivating and inspiring, notably the culture, it's also the time when the concept of Iki 粋5 was formed, the aesthetic ideal moves me deeply and it's what I aim to embody personally and professionally too.
Art
SK: Personally and professionally, do you seek inspiration from contemporary art, though the term is rather vague?
YF: Lately I particularly admire the photograph 'Kamiokande' taken by Andreas Gursky; the abstract yet minimal expressionistic jet black paintings executed by Tomoharu Murakami – underneath all the layers and textures of black ink on dark canvases, the use of materials like charcoal powder, oil and acrylic paints, you see discipline and vision, his techniques of wielding knives and brushes to create are also astonishing. I also remembered seeing an installation work orchestrated by Shuzo Takiguchi 瀧口 修造, summing up essentially it was his study, for most it was perhaps merely a room filled with irrelevant objects, again everyday slices of life intrigue me, I discovered eggshells pinned with a memo stating 'I would like to eat what's inside one day'6 — absurd but fascinating.
The list goes on, Ryan Gander, Yoshihiko Ueda 上田義彦, Lee Ufan, these are all very inspiring figures. I've never studied art but it pains me to see how the contemporary art world is dominated by scholars or academics and marketing-driven conglomerates, it's never about the name or reputation of the artist for me but the vision and emotion that the artist is able to convey through his or her creations, you can almost immediately detect whether the intention of the work is to cater to market demand, there shouldn't be any hierarchy in art either, take the Edo period as an example once more, when there were none of that, shunga 春画7 for instance, the culture and art were more to do with the commoners and not the royalties or governments.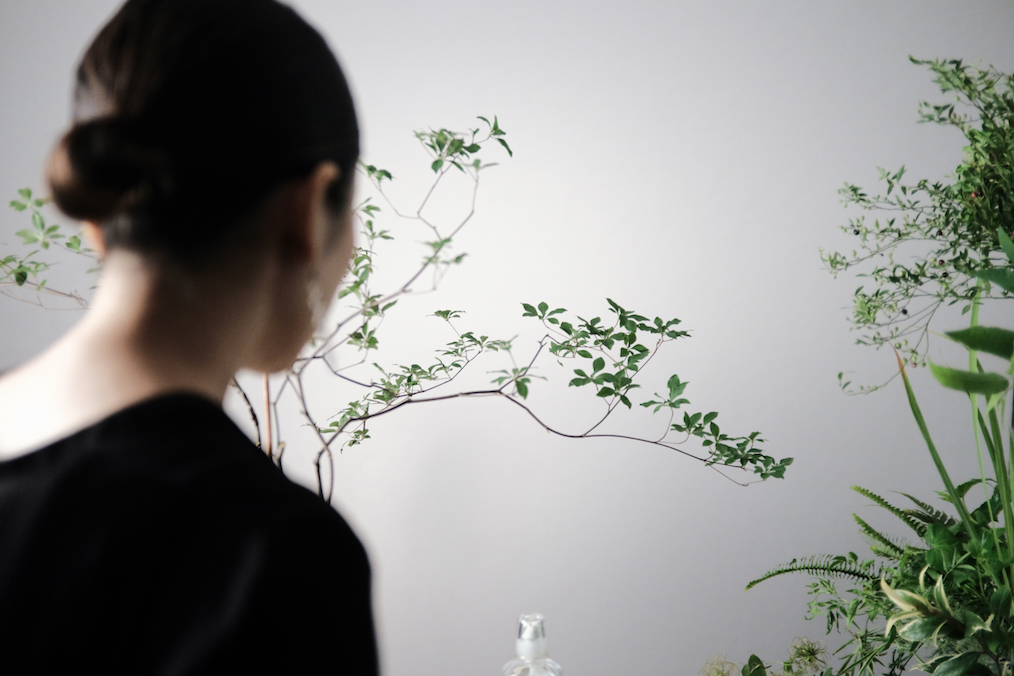 Future
SK: Becoming an independent designer, what plans do you have for the future?
YF: I would probably not start any ikebana 生け花8 lessons or workshops because I felt that it's already a very saturated market. In my head, there are things that I would like to create – perhaps, for lack of a better phrase, a new style differs from the majority of the industry, or somewhat of another aspect to what we as florists or floral designers can offer, it may not be the most interesting idea in the world, but speaking for myself nonetheless the crucial thing once again is to open up possibilities and ask the right questions. My mission is to connect people through plants, creating a pure and exclusive connection between both ends, without the necessity of attaching any words and explanations.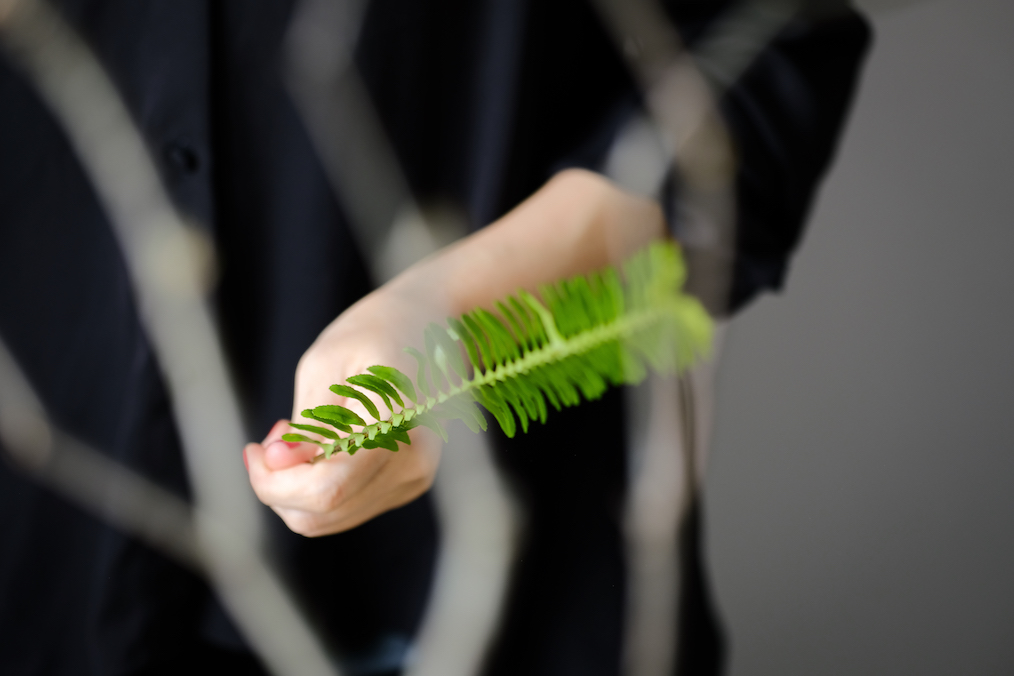 ___________________________________

1.  A decorative petit paper envelope that is given to children containing New Year's or congratulatory gifts, usually money.

2.  A flat and braided cotton cord.

3.  A Japanese ritual typically takes place during the summer that involves sprinkling water in gardens and streets. Japanese people see it as being exemplifying national values as it combines utilitarian, aesthetic, courteous and fulfilling duties.

4.  A series of screen paintings translated as "Scenes in and Around the Capital" capturing lives of the early capital of Kyoto.

5.  A specific Japanese concept in aesthetic ideal thought to have formed in Edo during the Tokugawa period, it is generally considered as an expression of simplicity and sophistication, associating with romance and ephemerality.

6.  A literal translation of the original text in Japanese: 「いつか中身を食べたいです。」

7.  Japanese erotic paintings reaching its peak during the Edo period, mostly ukiyo-e done on woodblock, literally translated as "spring painting" where "spring" is a common euphemism for sex.

8.  "Making flowers alive", the art of Japanese flower arrangement.




__________________________________________________________________

The original interview was conducted in Japanese by Soichiro Kimura 木村 宗一郎 and Axel Wang on 7 August 2019.



Editor: Axel Wang

Design: Axel Wang

Photography: Rui Yasue 安江 塁

Translation: Axel Wang and Rui Yasue
---