We spoke at great lengths with Subaru Matsukura (松倉 早星), born in Hokkaidō (北海道), 1983. Now the father of a son and a daughter, as well as the director of Nue inc., a creative agency specialised in all areas of planning and production. Winning numerous Japanese and international awards throughout his career and boasting a rich portfolio, Matsukura is without a doubt one of the rising stars of the Japanese creative industry. Matsukura opened up about his professional life and influences as a creative director and producer.
Our conversation is divided into two parts, please follow the link for the second part.
Axel Wang: Matsukura-san, how would you describe yourself and your line of work given our 'slash culture' today? Are you a consultant, curator, designer or more of an advertising guru?
Subaru Matsukura: I felt that once you attach labels, you kill possibilities. The works that I've been doing in the past few years come with a certain level of social responsibility so for now, let's just say that I'm the representative director of Nue inc,
AW: 'Nue', what is it?
SM: Our logo is a pixelated mosaic of a Japanese yōkai (妖怪)1 called nue (鵺). This thing is like a chimera, a combination of various animals, with face of a monkey, legs of tigers and tail of a snake and so on, rather ambiguous and vague to say the least, even for folklore standard, a bit like our work, people don't normally understand what we are doing.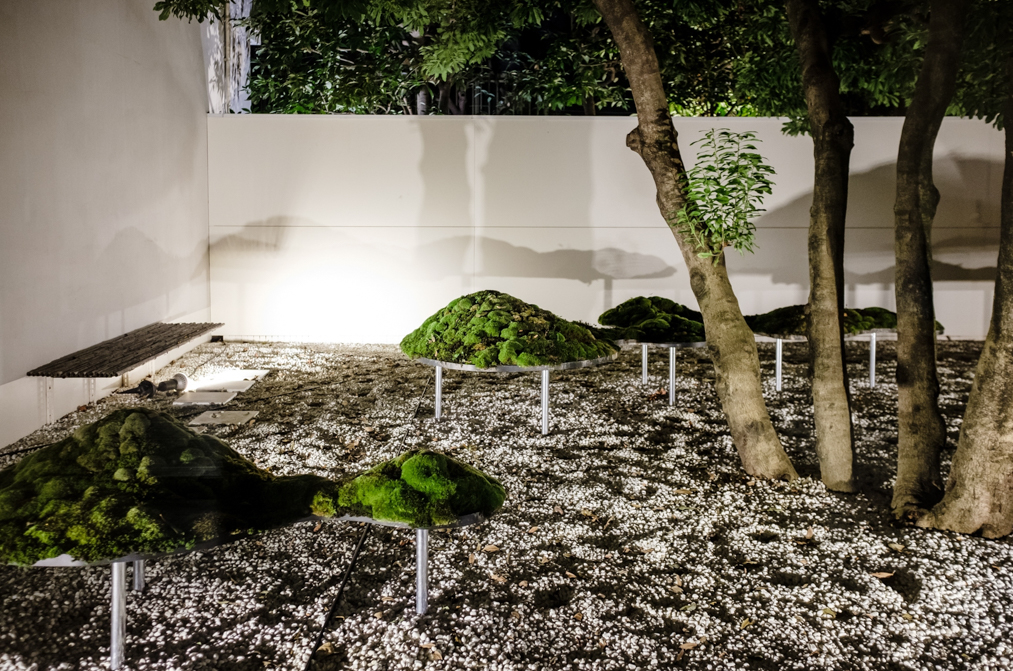 AW: You seem to dwell in the field of visual communication in both the art and the creative industry.
SM: Speaking from my own experience, the two industries are quite different. I worked on a new annual fair called 'ARTISTS' FAIR KYOTO' since launched in 2018, it was cancelled this year due to the pandemic unfortunately. I get to experience and discover new insights every year from more than 300 pieces of artworks submitted to the fair. For me, ease of communication reduces the value of art, because we can't expect to all 'get' it in the same manner. Artists are geniuses, they are able to communicate either verbally or visually in a way that no one else can. Each artwork created is like a mirror, where we project our own values, and a thousand of us will perceive it differently in a thousand ways, standing in front of this mirror.
On the contrary, creatives carry this responsibility on their shoulders where they must convey as the compendium of expectation grows exponentially by the day. Any attempted communication establishing to the targeted audiences has to be delivered otherwise it will just be too much lyricism, and such expression not only needs to be articulated and accurate but also, in Japanese the word is 'senren (洗練)'2. I'm not an artist but my perspective comes from someone working in the creative field that's close enough to the realm of art, where I stand I look after the infrastructure and control the resolution of the output, I don't know if that makes sense.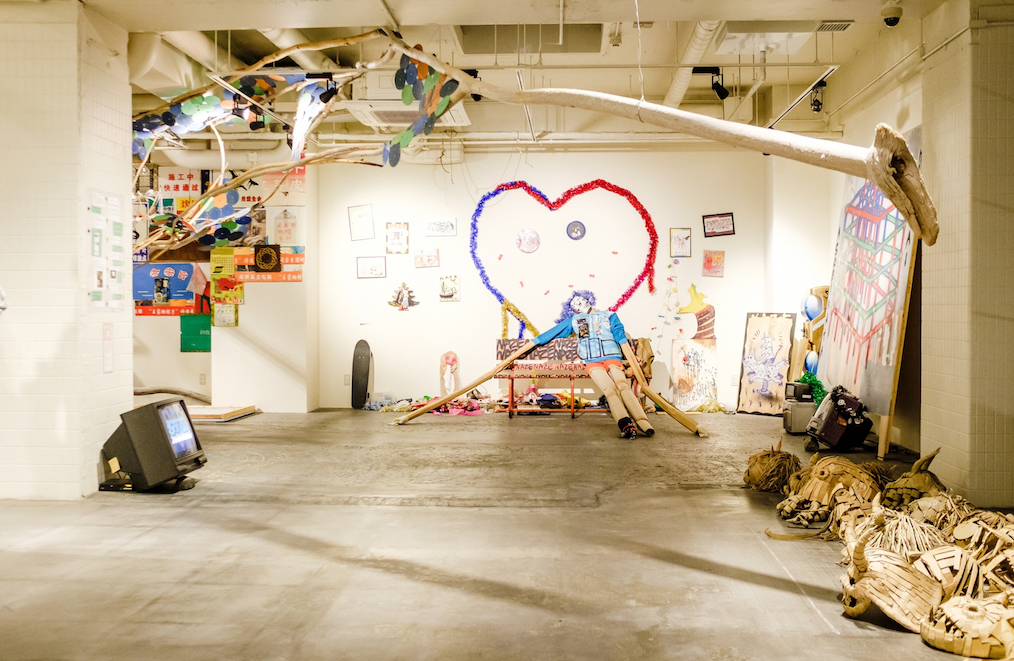 AW: It was a surprise to hear that you were in charge of a creative role for ARTISTS' FAIR KYOTO, how did you get involved?
SM: Let's see, please forgive me it's been a while (laughs)! The earliest contact took place after Nue inc. was incorporated. It was during Art Setouchi Triennale and I was invited as a guest producer by a contemporary artist and producer named Noboru Tsubaki 椿 昇3. We got along pretty well and then Tsubaki-san had an art project commissioned by the Kyoto Prefecture government, where he nominated me to be the creative director, the concept of the project was that the artists become the salesmen and were responsible for selling their own works on the spot without any galleries in between. That was how the collaboration started, and I imagine the rustic nature of the project was the trigger for ARTISTS' FAIR KYOTO too.
Overseas art fairs in general, tend to be more beautiful and neat, more structured, whereas for this Kyoto fair, the idea was to create an intimate environment for both the artists and the audiences, where they can all emerge themselves in such an atmosphere and conversations would flow more naturally. Tsubaki-san has this anarchist mindset that's not often seen and we all love him for being such a rebel.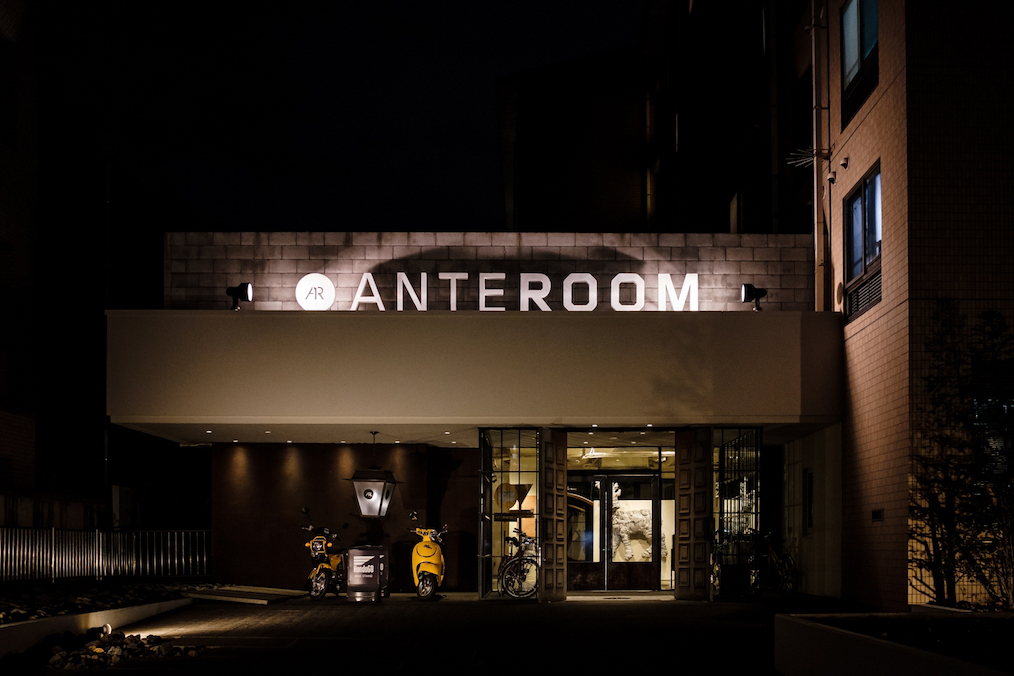 AW: Can you walk us through the concept and execution of [Homo Ludens 遊ぶ人], the exhibition held last autumn in Anteroom?
SM: I was managing a few things during the development of Anteroom (AR), from its conception to building up the team and so on. It was like a love relationship where there were lots of aspects that needed to be taken care of. During the first two years since its launch, it was our secret hideout, where I curated shows and organised events, after I left the project, it was like the relationship ended but I was so glad to see her matured and was able to walk on her own.

'When we were born we were all free and wild, you age and then you learn and adapt.' That was the idea AR proposed and we started talking, they wanted to venture out of the conventional exhibition routine so I suggested an alternative recipe – an open and free space, [Homo Ludens] was then set up as the theme, the name of the exhibition was inspired by a book under the same title written by Johan Huizinga.
| | |
| --- | --- |
| | |
At the opening phase of the project the team broadly discussed 'culture', and how the exhibition should be associated with 'culture'. But what is culture, you can't merely assemble it and just make culture, if you think about it, it's there before you even notice it. I thought about how we should approach this and decided we could return to the fundamental roots based on our initial idea, what did we do as children, well we simply 'play', right? It was a simple enough concept, basically we wanted the exhibition to be somewhat like a kindergarten playground and the exhibitors were like my friends. As you turn adult, you don't have the opportunity to spend time with friends as often, AR became this promised land where we could do whatever we wanted, as freely as we wanted, we could read, play tag together, roll around in a sandpit and build something silly out of it, there were zero constraints for both the curator and the exhibitors.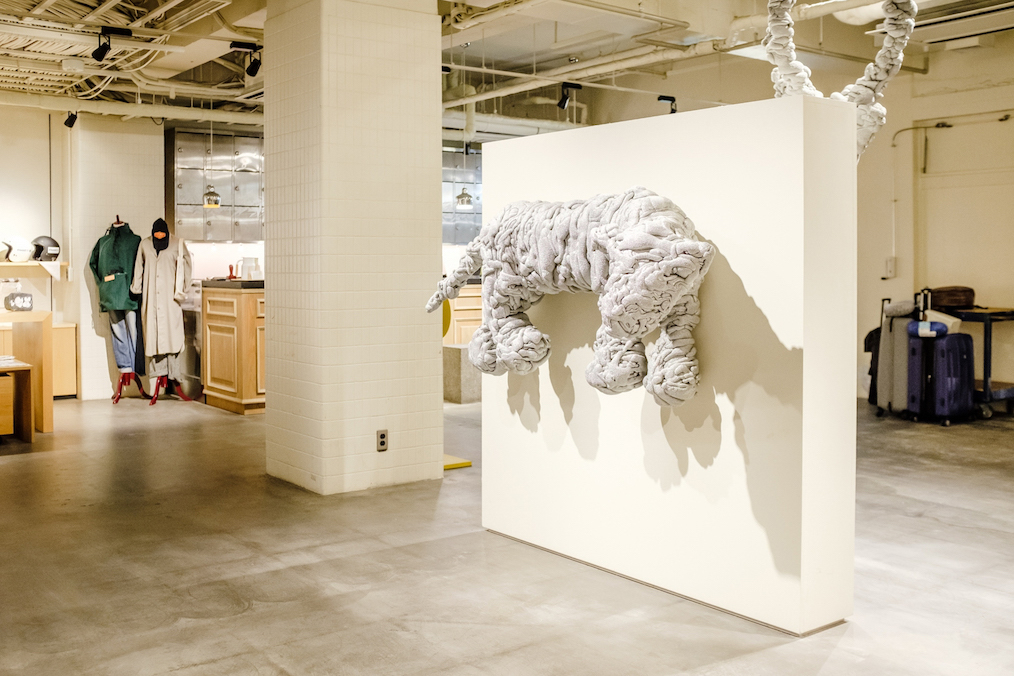 When you think of planning for an exhibition, the structure and organisation are clear, and the expectation and goal are more often than not, quite clear as well. But this time I wanted to go the other way. During the exhibition period, you saw different artworks appearing on different days and they were all over this playground, some were never completed, and I guess visitors were confused, obviously it wasn't familiar to most, we always got questions like 'Is the installation still ongoing', 'Is this the final form of the exhibition?". My response was if you recall hanging out with your friends in the park when you were a kid, it never really seemed to end, whether you played again tomorrow or the day after – the time and place might change, and the friends you played with might also change but the 'play' itself always seemed to last.
Reaching the end of the exhibition period when we had to dismantle, everyone just said 'Let's play again some time.' and waved goodbye, for me that was the most satisfying moment of the entire project so we thought, why not dive deeper and recreate the exhibition in an actual public space in the future, that would be fun.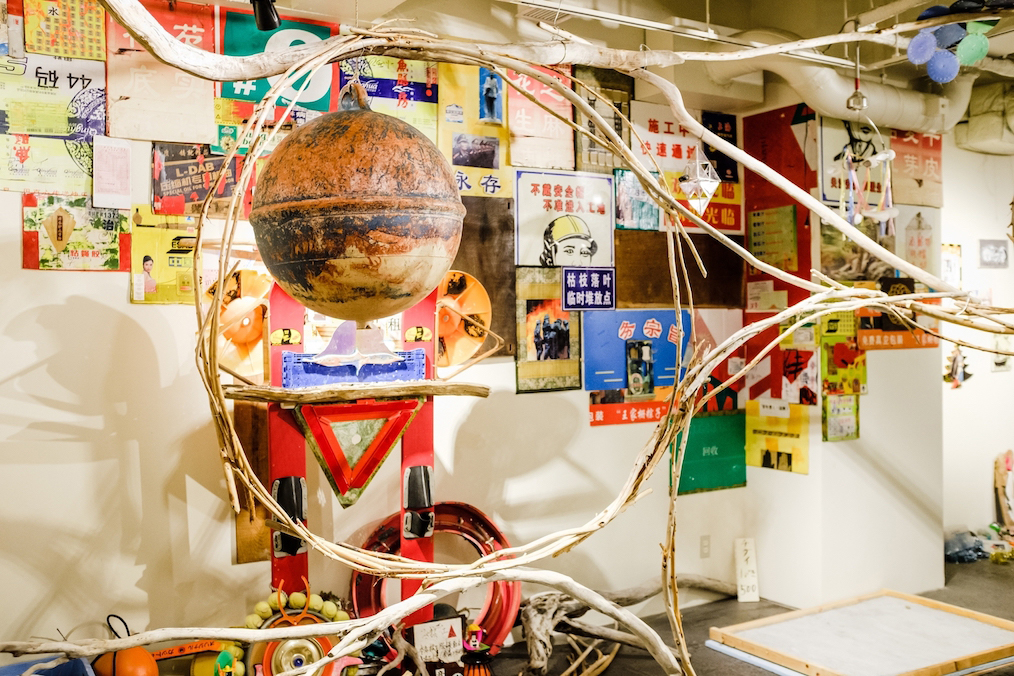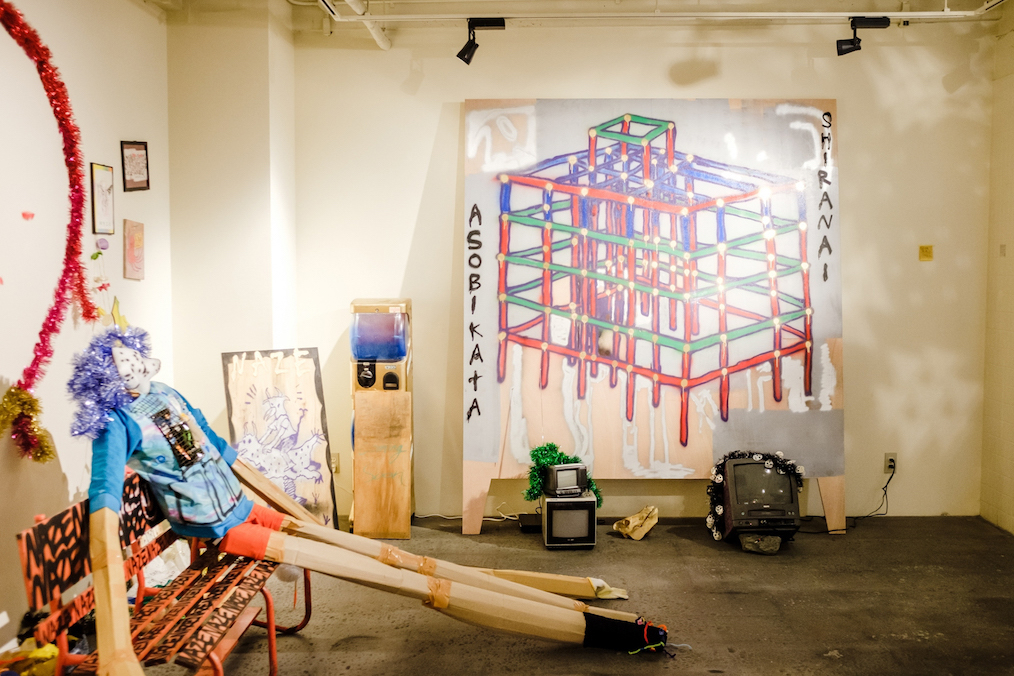 AW: We are witnessing more integrations of artworks and exhibitions in hotels these days, I suppose it's not only a great marketing strategy but moreover, granting opportunities for creatives working in the industry. How did the exhibition at Anteroom come to fruition, was it challenging to achieve a balance of your own vision in a conventionally less creative context?
SM: Our benchmark was Ace Hotel, definitely, though its characters seemed to have transcended with time and so did the role it plays in a city. The bar was set high but we were determined to match that. I tried not to touch the curation of artworks along with the interior design in the Concept Rooms4, as we had some truly talented artists and individuals working on those, it was a situation that I had never experienced before, the unexpected was what made the whole thing came alive.
My part was to coordinate and envision something outside of the box. It's like a gradual expansion process of a universe, you just didn't know what to expect next, you saw a gallery space popped out in the lobby here, a wall was taken down over there; the artworks were like different life-forms, as the number multiplied, almost as if symbiosis arose, some of them evolved and some vanished as this universe kept growing. True that every project requires a balance but when you are creating something completely new you wouldn't even know what the right balance is, for me it was all about making the most exciting choices, and the end result will speak for itself, how to deconstruct and break down any existing balance was possibly the most fun part of any creative process.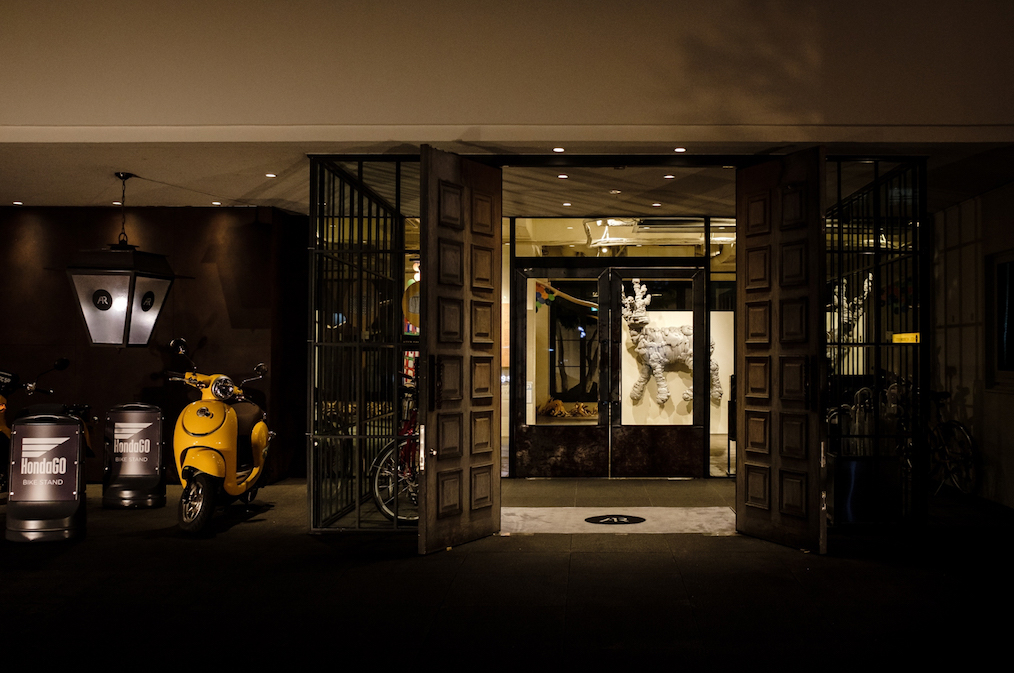 AW: Prior to Anteroom and Nue, ovaqe inc. – was that the first company you incorporated?
SM: The company would only last for 5 years, that was the plan. After I left 1-10 Design, a few members from the company followed and that was exactly what I told them, they needed to look for their own clients and gained independence after 5 years. The entire team consisted of mainly creative directors, planners and producers without any engineers or designers, our jobs ranged from digital commercials to shopping mall and hotel projects and etc. Whenever a project comes along we assembled a team together, Nue operates similarly, the only difference is that the projects that we are tackling now are more complicated with thicker layers of skin.
---
1.  Yōkai (妖怪) originates from Japanese mythology and folklore, they are supernatural monsters, spirits or demons that were once plants or animals.
2.  Senren (洗練), the closet translation in English is 'sophisticated' or 'refined'.
3.  Noboru Tsubaki (椿 昇) (b. 1953) is one of the icons of Japanese contemporary art scene, participated in Venice Biennale 1993, his works were exhibited in numerous events and museums throughout his career. Gradually taking on the position of director of various biennials, art fairs and projects in Japan since 2013.
4.  The Concept Rooms in Anteroom Hotel are decorated with themes of a particular artist, with carefully selected furnitures and artworks. You may spend your time whilst experiencing the works from the likes of Mika Ninagawa (蜷川 実花) and Kohei Nawa (名和 晃平).
---
The original interview was conducted in Japanese by Axel Wang and Rui Yasue (安江 塁) on 28 June 2020.

Editor: Axel Wang

Design: Axel Wang

Photography: Rui Yasue

Translation: Axel Wang and Rui Yasue
---